Marvel Studios' The Marvels is an absolute blast from start to finish. The energy is high, the action is pure spectacle, and the laughs keep coming. As with any Marvel outing there are loads of Marvel easter eggs, callbacks, and even a cameo or two, including one that definitely surprised audiences. From Pizza Dog to the Young Avengers, X-Men, Disney Princesses, and Captain America 4 here are all The Marvels Easter Eggs you may have missed.
Spoilers ahead if you have not seen The Marvels.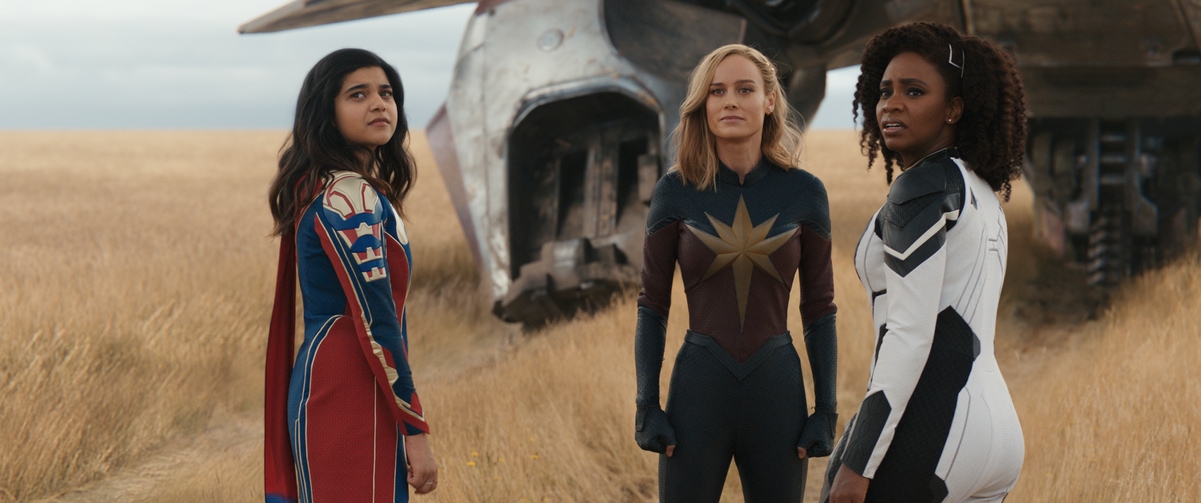 The Marvels Easter Eggs
During the opening crawl, The Marvels have taken over the Marvel Studios Logo with all their finest MCU moments.
Dar-Benn is using jump points to travel throughout the galaxy, destroying planets on her quest to save Hala. In the film she has taken on the mantle of Accuser, like Ronan was before her. In the comics, Dar-Benn is a general of the Kree who eventually becomes a joint emperor with Ael-Dan.
She wields the Cosmi-Rod, the hammer weapon Ronan had in Guardians of the Galaxy Vol 1.
On MB-418, Dar-Benn finds the twin to Kamala Khan's bracelet.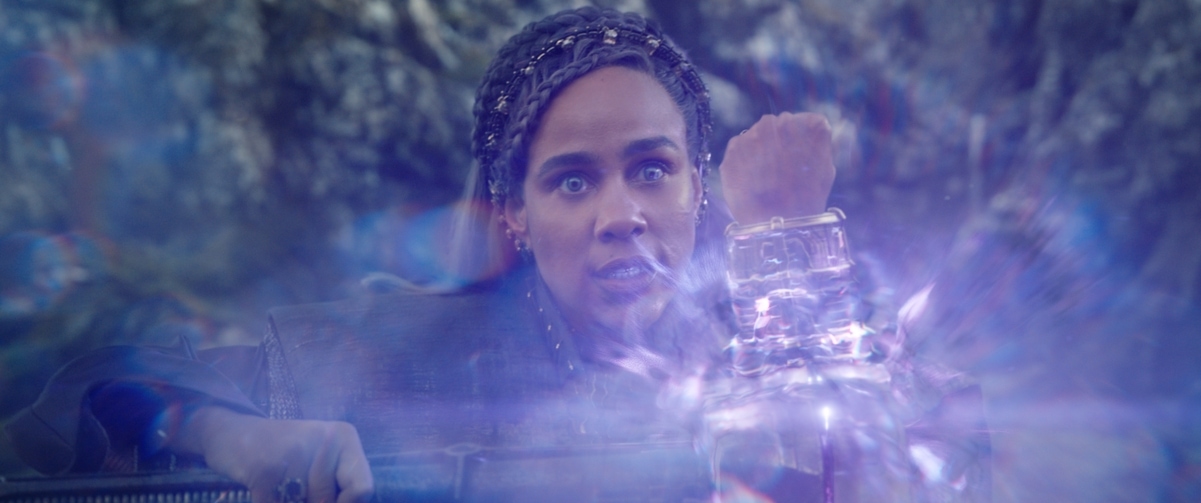 RELATED: Ant-Man and the Wasp Quantumania Easter Eggs, Callbacks, & Cameos
In Jersey, Kamala is in her room writing some fan fiction about the day when she will finally meet Captain Marvel. On the wall is a girl power sticker including major female MCU heroes like Captain Marvel and Valkyrie.
She also has a Captain Marvel Loungefly and Funko POP figures.
On her ship, Carol looks at a wall filled with articles about Maria and Monica Rambeau.
Fury asks her to go check out what happens on MB-418, together with Goose, she flies over. But when she touches a glowing light, as Monica is also touching a glowing one, and Kamala is in her room, the three switch places. This brings us to the post credit scene of Ms Marvel, where Carol crashes into Kamala's closet.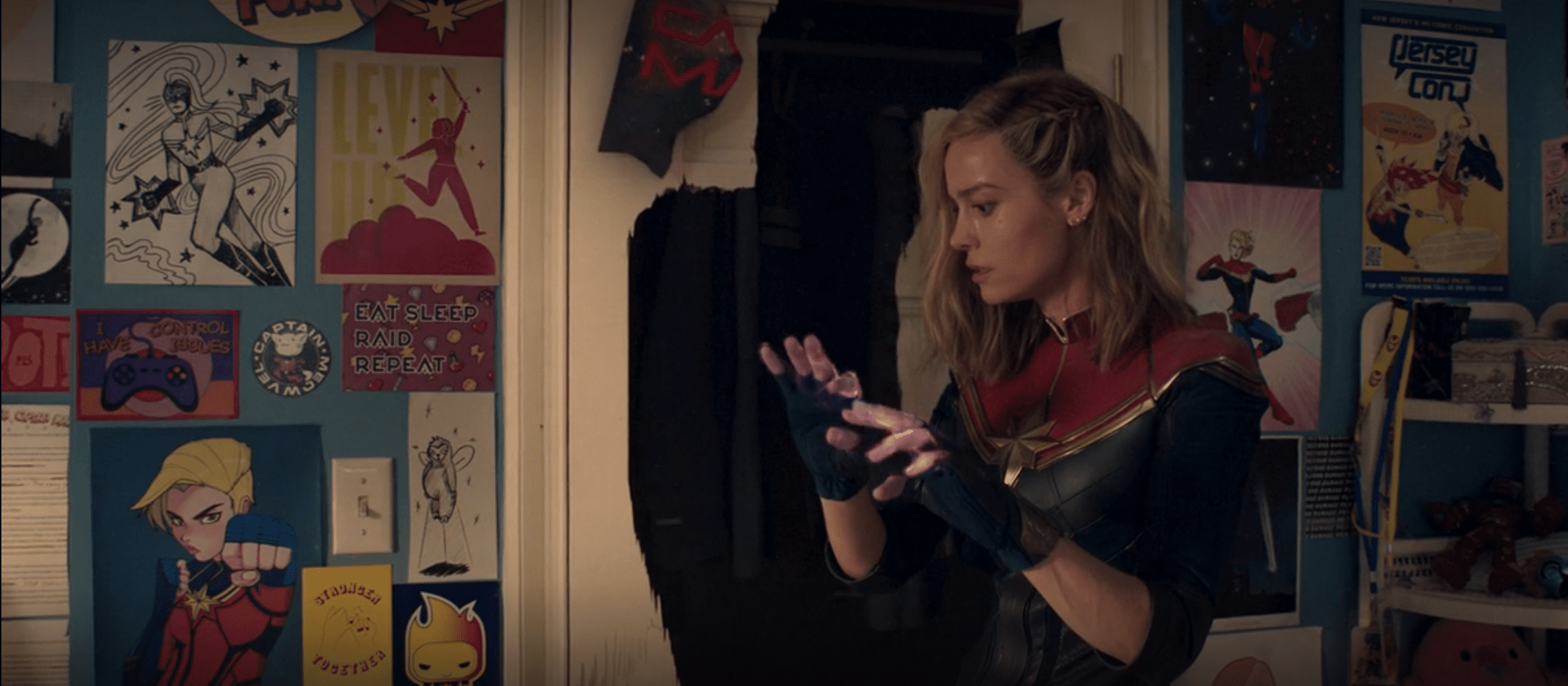 The switching continues which leads the Kree fighters to destroy Kamala's home. They are after the Drogge's Skrull colony on Tarnax. This place was mentioned by Talos in Secret Invasion Episode 2.
A newspaper laying on the living room floor has an article about the new government. This is a nod to the upcoming Captain America 4 Brave New World.
The heroes arrive on Tarnax to save the Skrulls, but some are lost. Carol calls a friend to help the Skrulls find a new home. King Valkyrie appears on the Bifrost to take the Skrulls to New Asgard.
There is a flashback showing how Carol defeated the Supreme Intelligence on Hala, hoping it would mean freedom for the Kree. But it led to civil war and the destruction of the planet's resources.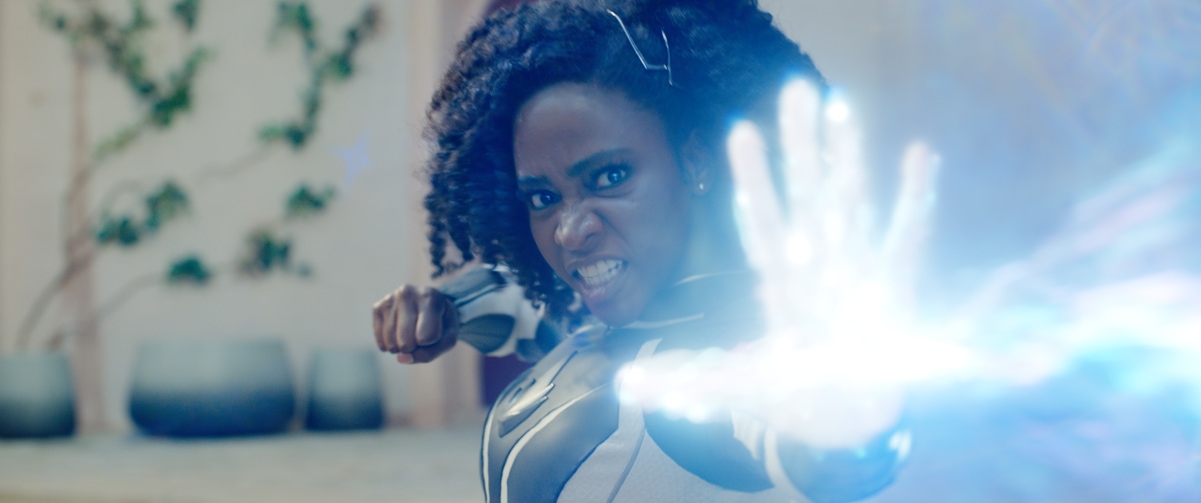 Kamala is trying to workshop a name for Monica Rambeau who is not interested in an alias. She tries Professor Marvel, Nova (a name of another hero), Vision, Pulsar (one of her comic book aliases), and Spectrum (another comic book alias).
The bracelet Kamala received from her grandmother is finally named as a Quantum Bands. In the comics, Quantum Bands are Kree relics and were the prototype for the ultra powerful Nega-Bands. In the MCU these bands can control and open the Universal Neural Teleportation Network aka jump points.
The Marvels head to Aladna to meet with Prince Yan who ends up also being Carol's husband. In the comics, Carol Danvers did help Yan out of a marriage he did not want to be a part of, but she didn't end up marrying him. A hero named Tic did. Carol Danvers is now an official Disney Princess right?
Monica is wearing Carol's NIN shirt from the first movie.
Kamala says "We have our heading." This is a quote by Captain Jack Sparrow in Pirates of the Caribbean Dead Man's Chest. It is a quote heard in the Disney "Movies, Magic and More" Promo.
Flerkens! Besides being ridiculously cute, Goose did in fact have a litter of Flerkens in the comics. You can find this story in Captain Marvel #7-8 (by Kelly Sue DeConnick and Marcio Takara). These adorable babies also provide a hilarious way to save the S.A.B.E.R. personnel.
At the end of the film, Carol goes back to Maria's house in Louisiana.
Kate Bishop comes home to her apartment where Pizza Dog aka Lucky is hanging out with Kamala Khan, who acting like Fury did during Phase 1, tells her she is putting together a team and wants her to be a part of it. This team will be the Young Avengers.
The Marvels Post Credit Scene
During the Mid-Credit Scene of The Marvels, Monica awakens inside the X-Mansion in Dr. Hank McCoy's lab. Beast assures her she is safe, having been saved by Binary. Monica is overwhelmed with emotions because in this reality, Binary looks exactly like her mother- Maria Rambeau. However, Binary does not recognize Monica. Hank mentions that Charles will want a report now that Monica is awake. Charles of course meaning Professor X.
Kelsey Grammer reprises his role from the Fox X-Men universe as Beast.
Binary in the comics is a Carol Danvers duplicate.
The Marvels is in theaters now. It is rated PG-13 for action/violence and brief language with a runtime of 1 hour 45 minutes.