Pop quiz hot shot. What's coming to 4K for the first time ever May 4? That's right, it's the Keanu Reeves Sandra Bullock classic- Speed. Get ready to jump back on the runaway bus because the Speed 4k Ultra HD edition is a must have for fans of the 90s hit.
Speed 4k Ultra HD
I remember watching Speed, admittedly when I was too young to be watching a Rated R movie, and loving the contrast of Bullock's Annie and Reeves' Jack. The action roped me in too because growing up around cars and having an Uncle who liked to race them means any movie involving high chase, intense scenes was automatically awesome to me. As I got older, I thought who wouldn't want to be put into a stressful situation like that as long as Keanu Reeves was at your side? I mean come on, it's Keanu Reeves.
Now that you all know that my parents did not monitor what I watched and that I am a Keanu fans let's do a little refresher. If you forgot what Speed is about here is a little breakdown.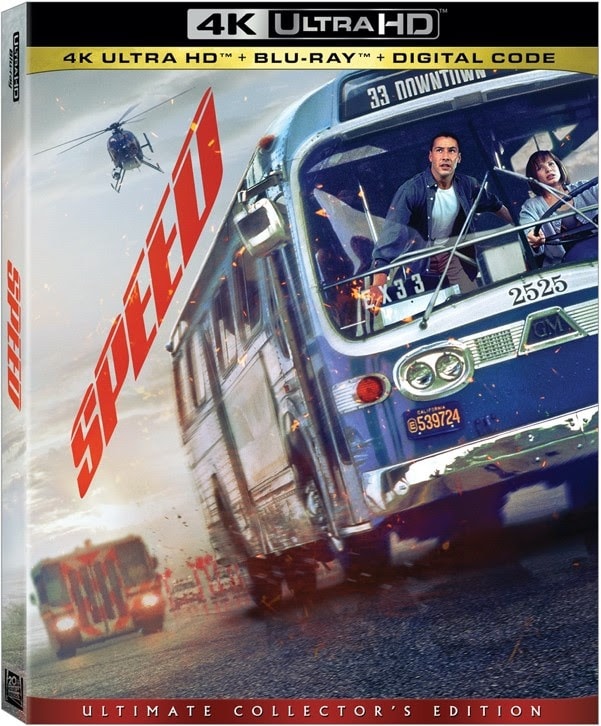 Hold on tight for a rush of pulse-pounding thrills, breathtaking stunts and unexpected romance in a film you'll want to see again and again. Keanu Reeves stars as an L.A.P.D. SWAT team specialist who is sent to diffuse a bomb that a revenge-driven extortionist (Dennis Hopper) has planted on a city bus. But until he does, oneof the passengers (Sandra Bullock) must keep the bus speeding through the streets of Los Angeles at more than 50 miles per hour – or the bomb will explode. A high-octane chase of suspense, nonstop action and surprise twists, "Speed" is a joyride sure to keep you on the edge of your seat!
SPEED BONUS FEATURES*
Audio Commentary by Jan de Bont
Audio Commentary by Graham Yost and Mark Gordon
Action Sequences
Inside Speed

On Location
Stunts
Visual Effects
HBO First Look: The Making of Speed

Extended Scenes

Jack Shoots Payne in the Neck
Payne Lives/Cops Party
Annie's Job
After Helen's Death
Ray's Crime
Cargo Jet Explosion: The Airline Version

Speed Music Video by Billy Idol
Speed 4K Ultra HD Collector's Edition is available to own on May 4.