Picking up right where we left Marc last week, and that is in the bathroom of the museum killing the jackals sent after Steven. Once Steven takes back over he discovers who Marc Spector is and winds up in a lot of trouble. Luckily, Layla finds him and he manages to summon a different suit. Let's get into "Summon the Suit" with this Moon Knight episode 2 easter eggs and breakdown.
This is your spoiler warning if you haven't watched episode 2 of Moon Knight.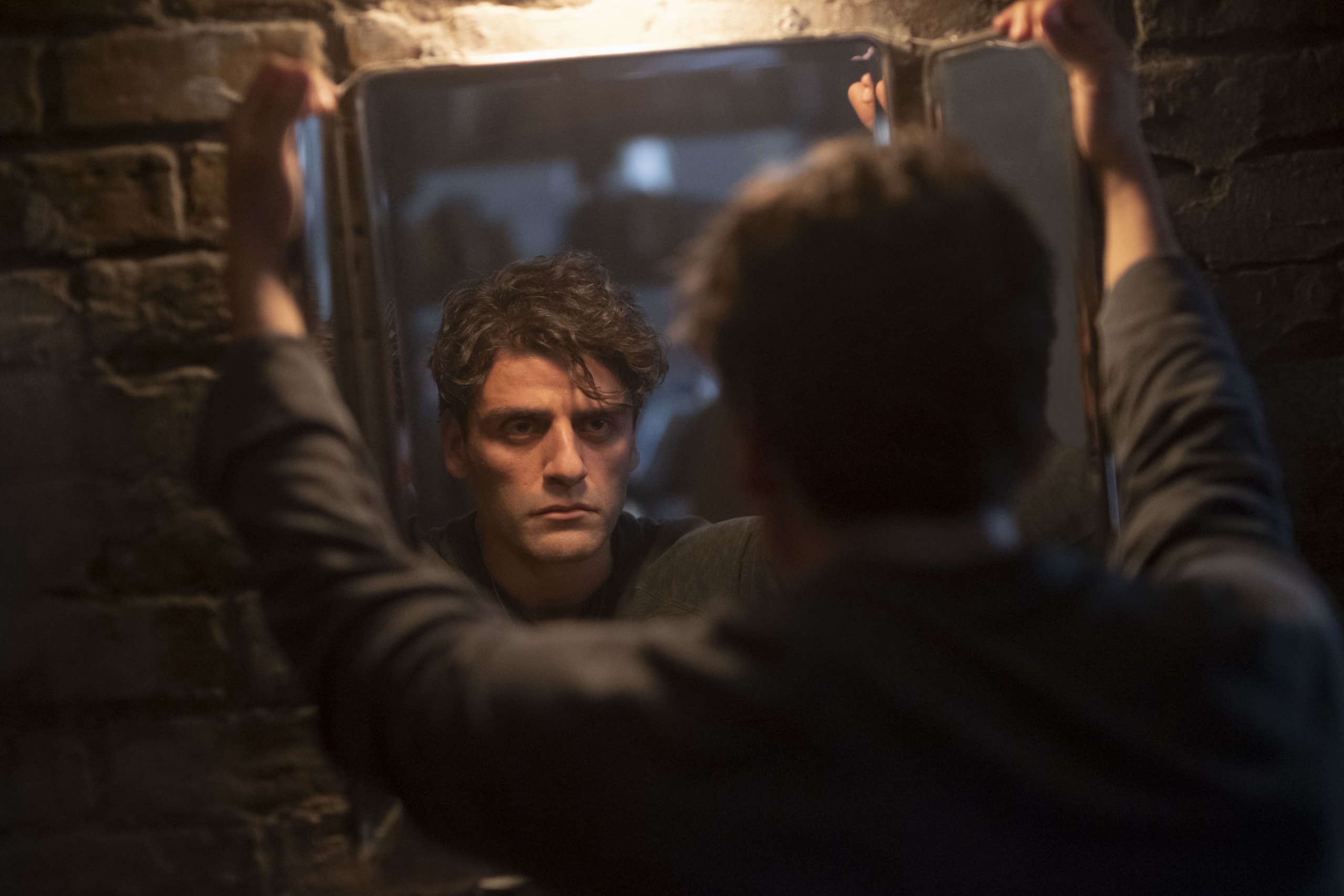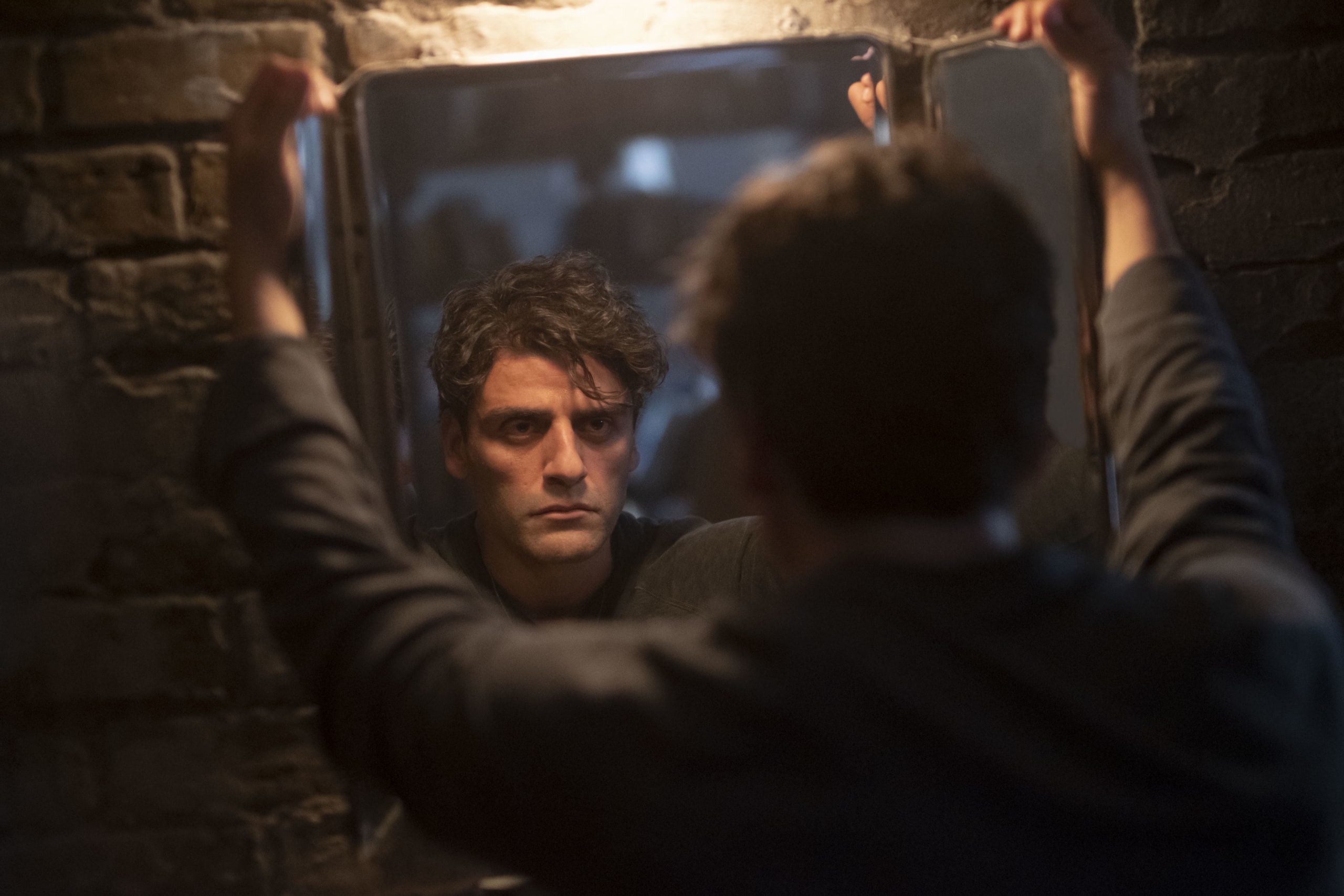 Moon Knight Episode 2 Easter Eggs & Breakdown
This week starts where last week ended, with the sounds of jackals dying as Marc kills them in the bathroom. Steven wakes up in his bedroom. He calls out for Marc but he does not respond. This makes Steven believe everything was a dream or that he is losing his mind.
At the museum however, something definitely happened. Portions have been taped off and the bathroom is destroyed. Steven asks JB (the security guard) if he can watch the footage with him, warning him he will be shocked. The only thing shocking about the footage is that it shows Steven clearly upset, running for his life, but nothing is chasing him. On tape, there were never any jackals. JP makes a joke about The Hound of the Baskervilles by Sir Arthur Conan Doyle.
RELATED: Moon Knight Episode 1 Easter Eggs & Breakdown
Marc is the one who walks out of the bathroom, glaring at the camera. Steven, blamed for the damage, isn't arrested but is fired from his job. The HR head suggests that Steven go to see a therapist.
The doctors in the brochure is are called the Sienkiewicz Psychiatric Group. This is for the Moon Knight artist, Bill Sienkiewicz who started his career at Marvel Comics drawing Moon Knight in black and white for The Hulk comics. He then worked on the first color series of Moon Knight in 1980. Bill Sienkiewicz is responsible for distinguishing Moon Knight and his look, making sure readers knew without a doubt this wasn't some batman.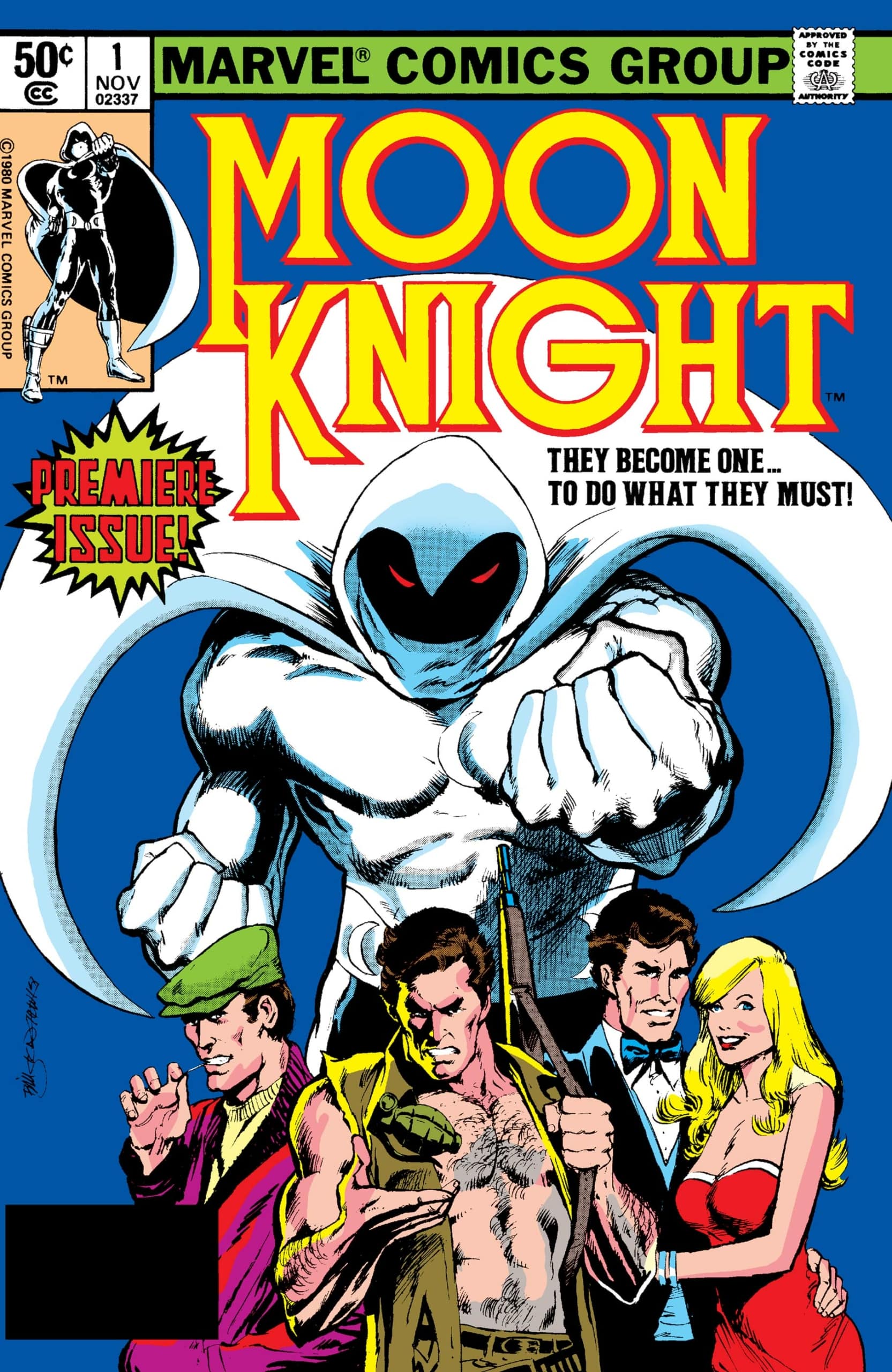 Instead, he goes back to Crawley, the living golden statue, to tell him what happened. Talking things over he realizes in order to prove to himself that he isn't losing it is to find the storage locker the key unlocks. If he can find that, and the golden scarab it will prove everything was real.
Storage Locker #43: If you pause and scan the QR code it takes you to Marvel's website for Moon Knight Comics where you can get a FREE Marvel comic.
Moon Knight Vol 1 #43 is part of the larger Infinity War Omnibus comic run which is the sequel to the Infinity Gauntlet series. In Moon Knight #43, he helps the Avengers and other heroes battle against an army of doppelgängers. He personally faces the duplicates of Black Knight, Beast, Darkhawk, and Daredevil. This massive comic book event also includes the Infinity Watch, a group designed to keep watch over the Infinity Stones and keep them from being assembled into the Infinity Gauntlet, again.
In previous Marvel shows on Disney+ they made websites for Explore Madripoor from Falcon and the Winter Soldier and Roxxcart from Loki. Interesting to note the Madripoor site still works, the other does not.
Inside the storage unit is a cot, outfits, various weaponry, and a duffle bag full of money, Marc Spector's passport, and the Golden Scarab. Marc starts talking to him from the mirror, Steven refuses to listen and vows to turn all this stuff into the authorities. Steven tries to run away but Khonshu chases him.
Marc Spector Passport
Date of Birth: March 9 1987
Location: Illinois, USA
Issued: 14 December 2018 (This is the same date that Spider-Man Into the Spider-Verse was released. Oscar Issac voices Spider-Man 2099)
Expires: 15 December 2028 (Being that this is a Friday, there is a good chance another Marvel movie could be released on this date, starring Moon Knight)
Oscar Issac's birthday is March 9, 1979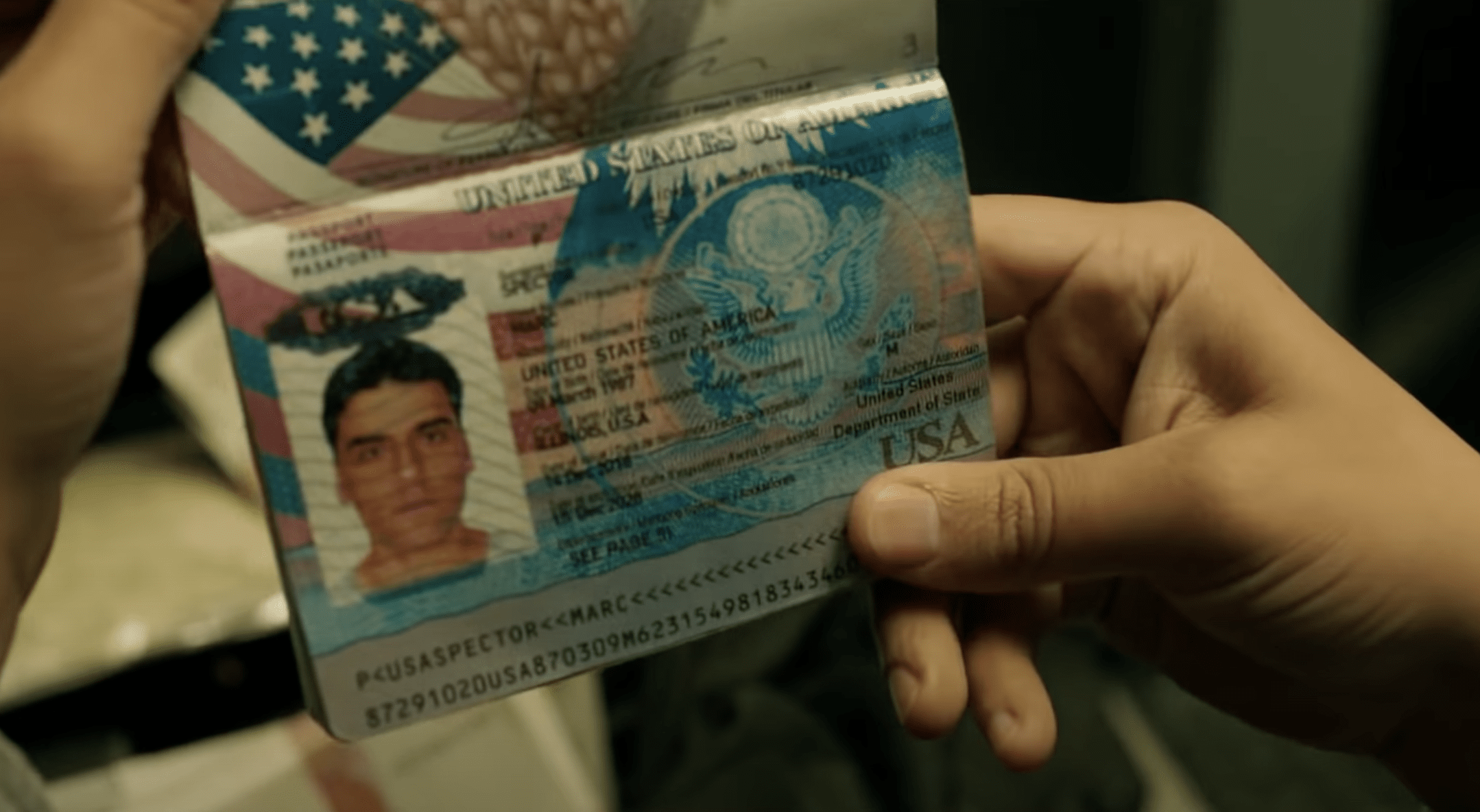 Steven stumbles outside and is almost run over by Layla, the mysterious woman from the phone. She knows about Marc's special suit and reveals that she and Marc are married. In the comics, Marc is in a relationship with Marlene Alraune, daughter of the archeologist Peter Alraune who was killed on the same mission that saw Marc getting his Moon Knight powers.
Back at Steven's flat, Marc warns him not to let Layla get involved. The book she picks up is Les Pleurs by Madeline Desbordes-Valmore. This book features poems about loneliness, sadness, and heartbreak. Seems fitting for Steven's life. Another book on the shelf is titled Whittredge. This is a book about artist Worthington Whittredge who changed the way others captured American landscapes.
Officers Fitzgerald and Kennedy show up to take Steven in for questioning. Layla escapes with the scarab. But they don't take Steven to the police station, but to a neighborhood run by Arthur Harrow. In the car they mention the brutal way the archeologists died during Marc's mercenary days.
Kennedy refers to Fitzgerald as Bobby. In the Jeff Lemire run of Moon Knight, Billy and Bobby worked as orderlies for Doctor Emmet aka Ammit in the mental hospital Marc was being held prisoner. They often appeared as jackals when Marc was wearing his suit.
Arthur shows Steven around, tells him he doesn't need to listen to Khonshu and claims to be Khonshu's former avatar. The scarab leads to Ammit's tomb and they need it to find her to awaken her. Arthur further explains that she will eradicate evil and bring heaven to earth. Eliminating a threat before it happens, sounds similar to what Project Insight claimed to do in Captain America The Winter Soldier.
The crocodile cane Arthur uses contains a sliver of Ammit's power. It glows purple and he uses it to summon a jackal. Layla shows up to rescue Steven and tells him to summon the suit.
Steven calls Arthur an evil magician, which you could say is like a wizard. It's always one of the Big Three: Aliens, Androids, or Wizards.
He gets pushed out the window and starts yelling suit, suit, suit. He makes the superhero landing in the Mr. Knight suit. Steven is still in control but he does seem stronger. He dents a car bumper by grabbing it and throws a heavy punch. He then quotes Muhammad Ali "Float like a butterfly, sting like a bee."
The weapons Steven has are Moon Knight's Truncheon. They are a multi-purpose weapon that can be used as a bo-staff, grappling hook, baton, or cane similar to Daredevil's Billy Clubs.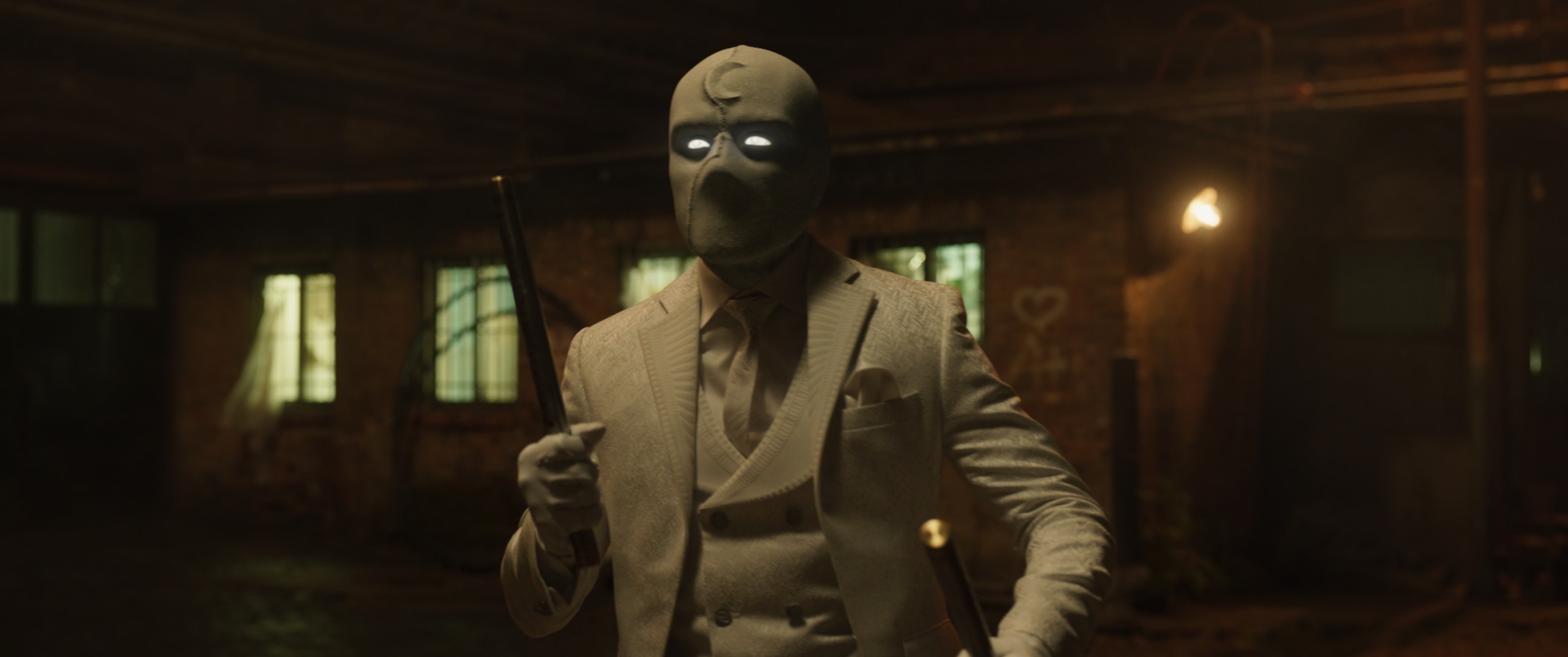 Unfortunately, Steven in the Knight suit isn't going to be able to handle the jackal. Marc takes over, the Moon Knight suit wraps around him.
Moon Knight is standing in front of a commuter bus with an ad on it for GRC- The Global Repatriation Council. This confirms Moon Knight takes place after the events of Avengers: Endgame, in a post blip world. The GRC was first introduced in Falcon and the Winter Soldier.
Marc uses his crescent darts to kill the jackal. In the comics, these darts are made from Adamantium, the same material as Wolverine's claws. However, in the MCU Adamantium doesn't exist… yet. With the known celestial connection (in the comics) to the Wakandans, these could be made from vibranium.
Marc refuses to give the body back to Steven. Khonshu is angry Harrow has the scarab. He also reveals if Marc stops being his avatar he will go after Layla to take his place. It's time to fix this, which means they head to Egypt. Marc awakes in a room overseeing the Valley of the Kings. Steven is sitting on the bed in the mirror concerned while Marc is sitting on the floor with a liquor bottle in his hand.
On the nightstand are driving gloves. A subtle nod at Jake Lockley who is a taxi driver in the comics. There is also a prescription medicine bottle open not he nightstand.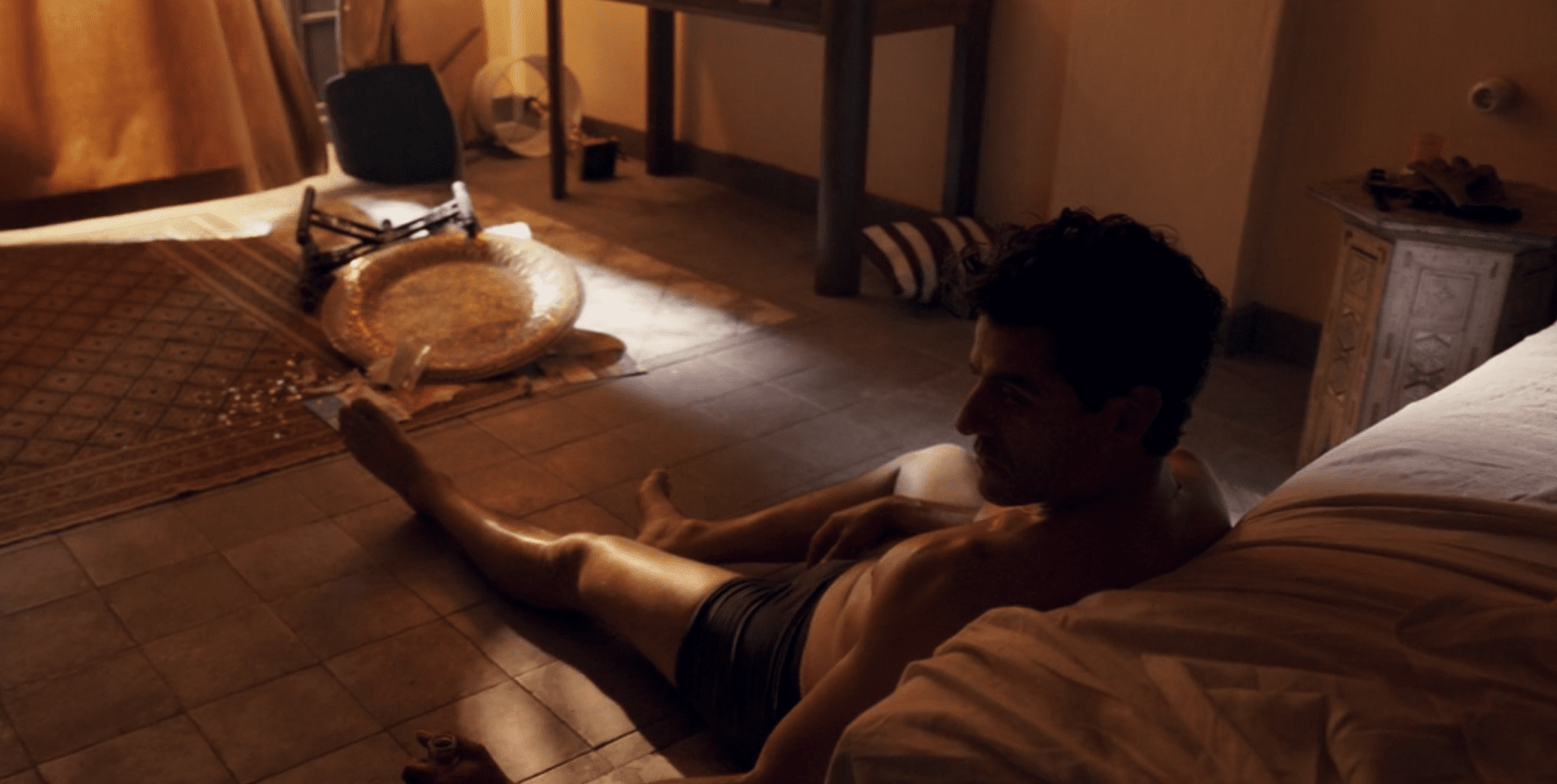 Episodes 1 and 2 of Moon Knight are now streaming on Disney+.