With all the controversy surrounding the star of the film, the marketing has leaned heavily into fan service and nostalgia baits. Unfortunately not even Michael Keaton's Batman can save the disaster that is The Flash.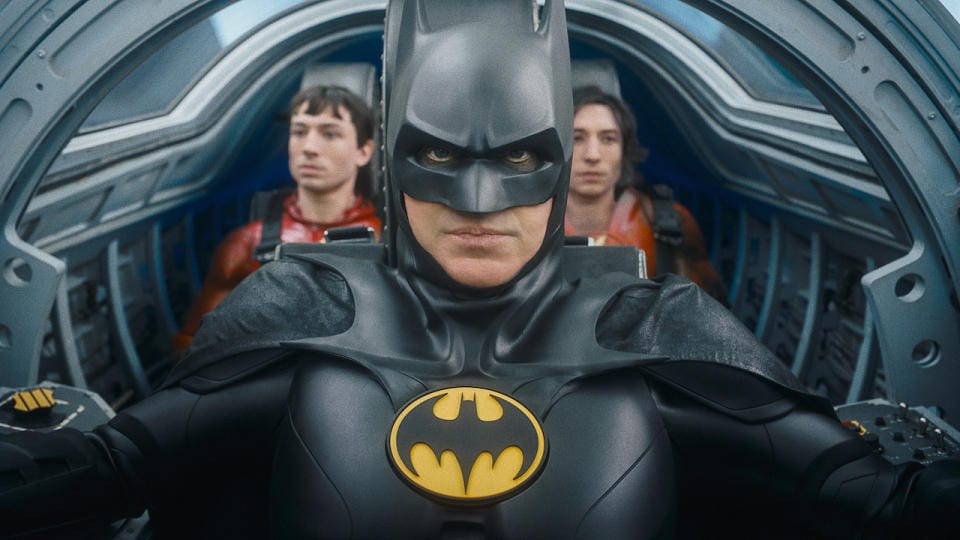 The Flash Movie Review
Barry Allen / The Flash (Ezra Miller) is struggling with his place in the superhero world. One night while running faster than ever before, he realizes he has traveled back in time. This spurs him to seek to change the past and save his mother from dying and his father from jail. Messing with time has consequences and he soon finds himself trapped in an alternate reality without metahumans. In order to save the timeline and the worlds connected to it, Barry enlists the help of his younger self, a different Batman (Michael Keaton), and Supergirl (Sasha Calle). Together they must face the dark force preventing the timeline from being restored as well as General Zod (Michael Shannon) who shows up to once again take over Earth.
My superhero journey didn't start with Marvel but with watching old comic book movies and TV shows with my uncle. Keaton's Batman, Christopher Reeves' Superman, and Adam West's Batman were my intro to the hero world, so despite having reservations about The Flash, I was at least looking forward to seeing Keaton don the suit again. Unfortunately, not even Keaton's Batman can save this disaster. From a lackluster script and low-grade visuals to poor choices and a cheap attempt at meaningful fan service, The Flash fails in every way. It seems like director Andy Muschietti and crew spent too much time performing sleight of hand. See these actors and characters you actually like? Remember them? Good! Now forget how much this movie let you down. Too bad that plan won't work on a more discerning audience.
RELATED: Spider-Man Across the Spider-Verse Review: A Mind-Blowing, Must-See Film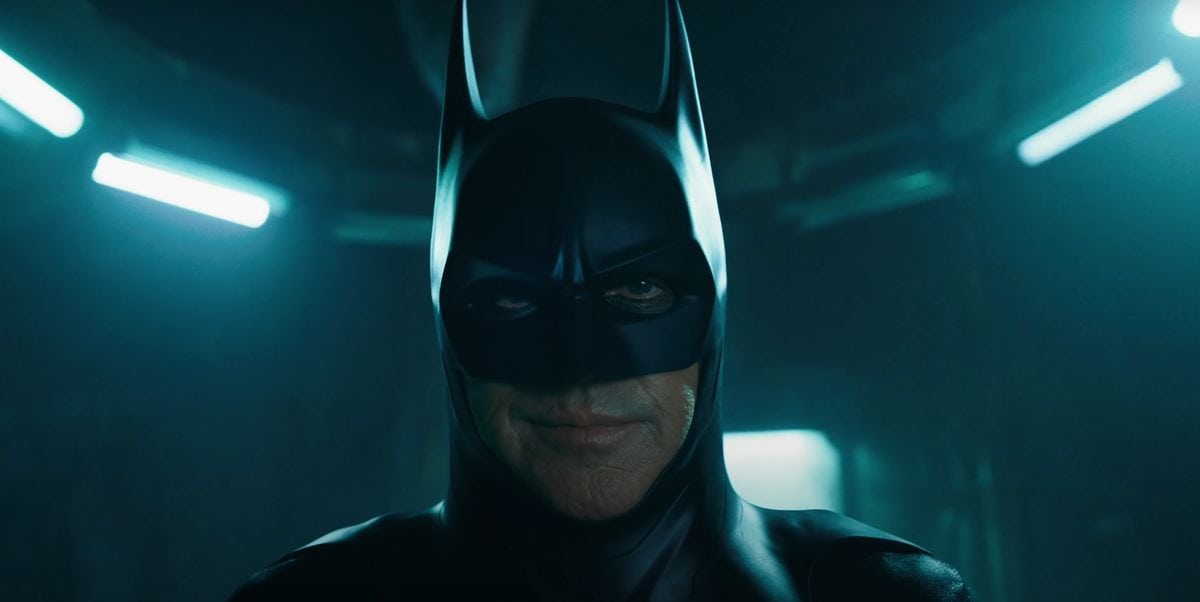 Being that there is far more negative about The Flash than positive, let's start with what worked. For fans of the Tim Burton world of superheroes, seeing Michael Keaton back in the Batman suit provided a nice little dopamine hit. Boosted by the old theme being played as well as unveiling the old Batmobile. Somehow Keaton's Batman is still 100x a better fighter than Batfleck ever hoped to be despite his clear elder Bruce Wayne physique. It just proves Keaton is the superior Dark Knight, at least between these two, not that anyone should've ever placed Batfleck above him in the first place. Yes he said the lines too, which the first "I'm Batman" was fine however the "get nuts" was delivered with the same amount of emotion as a talking Batman toy. No fault of Keaton's, it just felt like Muschietti said look at this camera and say the thing. It was practically a fourth wall break with Keaton winking at the audience in a here you go, I said it kind of way.
Visually The Flash is a mess from the opening hero sequence that is firmly living in Uncanny Valley to a final battle that looks uninspired and haphazardly patched together. After the visual feast of something like Guardians of the Galaxy Vol 3 or the not perfect but still thrilling Dungeons and Dragons Honor Among Thieves, it's hard to figure out where the budget for The Flash was spent. Maybe it was all blown on cameos and AI of old characters, or marketing to keep the focus off its star. The exception was the speed force sequences which when he was simply speed skating around looked perfectly fine. When they opted to show random moments in time along the way, the visuals broke down and were once again murky. All of this along with the erratic pacing takes away any excitement that could be mustered from a final act that is just a modge podge of sequences from better films.
As far as the story goes, Christina Hodson and Joby Harold have created a mashup of the comic storylines of Flashpoint and Crisis on Infinite Earths with a dash of this is all to essentially to reset the DC universe for Gunn's vision. Hodson and Harold's script is full of bland attempts at humor and cheesy dialogue. It's a shame when the source material is as rich as it is. Luckily, if anyone is interested in seeing a better adaptation, there are a few options. More recently is the 2019 tv crossover Arrowverse event as well as The Flash show, both get the point across in a far more cohesive way. Although in my opinion, The Flashpoint Paradox, an animated film from 2013, probably tells it the best outside of the comics themselves.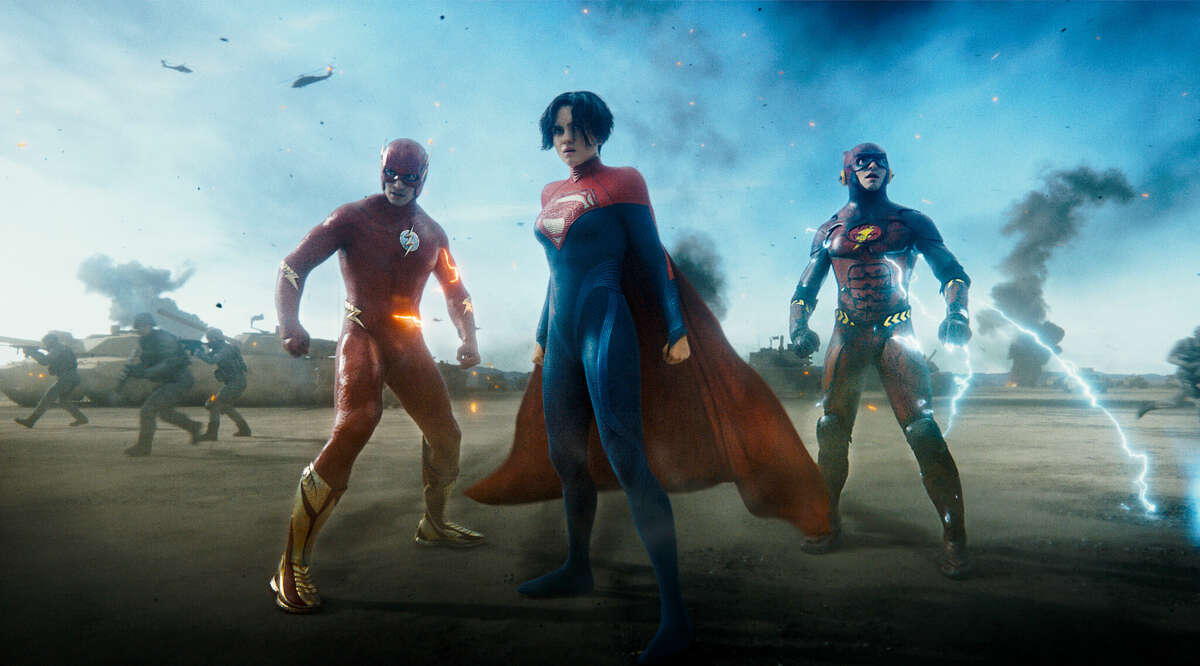 Now for the elephant in the room. There is the argument that audiences should separate the art from the artist, but realistically that is difficult to do even in less severe cases. After all, a star making comments about the effectiveness of vaccines can deter people from wanting to support their film. That is a drop in the bucket compared to the allegations against Miller. Sitting there listening as the script seemingly mocks mental health while watching extras swoon over The Flash is off-putting to say the least. Miller issues aside there were other choices about the film that did not quite sit right. Henry Cavill's Superman is used but it's not new footage. Then there is Flash looking for Ray Fisher's Cyborg. Given how both actors were treated, it seemed an odd choice to include them here, especially the latter. It is also hard to forget that Warner Bros. opted to write-off and destroy Batgirl, a film with a diverse cast and female lead in favor of this one.
As mentioned above, I have fond memories of Keaton and West playing Batman as well as Reeves as Superman. Getting Keaton for the film's fan service grab was fine but bringing back deceased actors felt plain wrong. Even if they got permission from their families (and I hope that they did) it still left me with the ick. Yes Star Wars has done this with Peter Cushing and Carrie Fisher's characters but in the case of the former, his family gave permission and he wasn't reduced to mere fan service. The latter had already shot scenes for her part and her daughter was in the film and gave permission. Then there was Marvel Studios, who chose to honor both Stan Lee and Chadwick Boseman with memorials fitting of the people that they were. However, where Wakanda Forever was an emotional tribute to Boseman , The Flash treats these DC legends like poor circus animals, parading them out for the crowd's amusement before returning them to their cage.
Ultimately, The Flash attempts at peddling in nostalgia failed. In my best imitation of "Simpsons already did it," Marvel and Sony already did it. Marvel Studios and Sony expertly handled balancing nostalgia and fan-service in No Way Home to elevate the film. Then there was Across the Spider-Verse, which leveled up from that to show everyone how it's done when combining a multimedia legacy of beloved characters. Then there is DC, disappointing its fans and itself as it once again tries to play catch up. It's not even worth going into how the fight with Zod was basically Man of Steel 1.5. In that case Zack Snyder already did it and it was better. My hope is that James Gunn rights the ship because I would love to see a cohesive universe that utilizes the DC characters in a way fitting of their storied legacies. Until then, fans are better off rewatching the old Batman movies and the DC Flash show starring the superior Barry Allen, Grant Gustin.
The Flash is in theaters June 16. It is rated PG-13 for for sequences of violence and action, some strong language and partial nudity with a runtime of 2 hours and 24 minutes.