Star Wars Rebels fans, this IS the show we have been waiting for. Ahsoka has finally debuted on Disney+ and there were tons of callbacks, cameos, and nods for those with eyes like the Jedi to spot. From Sabine to Hera, Ezra, Loth cats, and that tear jerking mural, we have a lot to unpack in Ahsoka's premiere. So let's get into "Master and Apprentice" with this Ahsoka Episode 1 Easter eggs and breakdown.
Spoilers ahead if you have not watched the premiere of Ahsoka.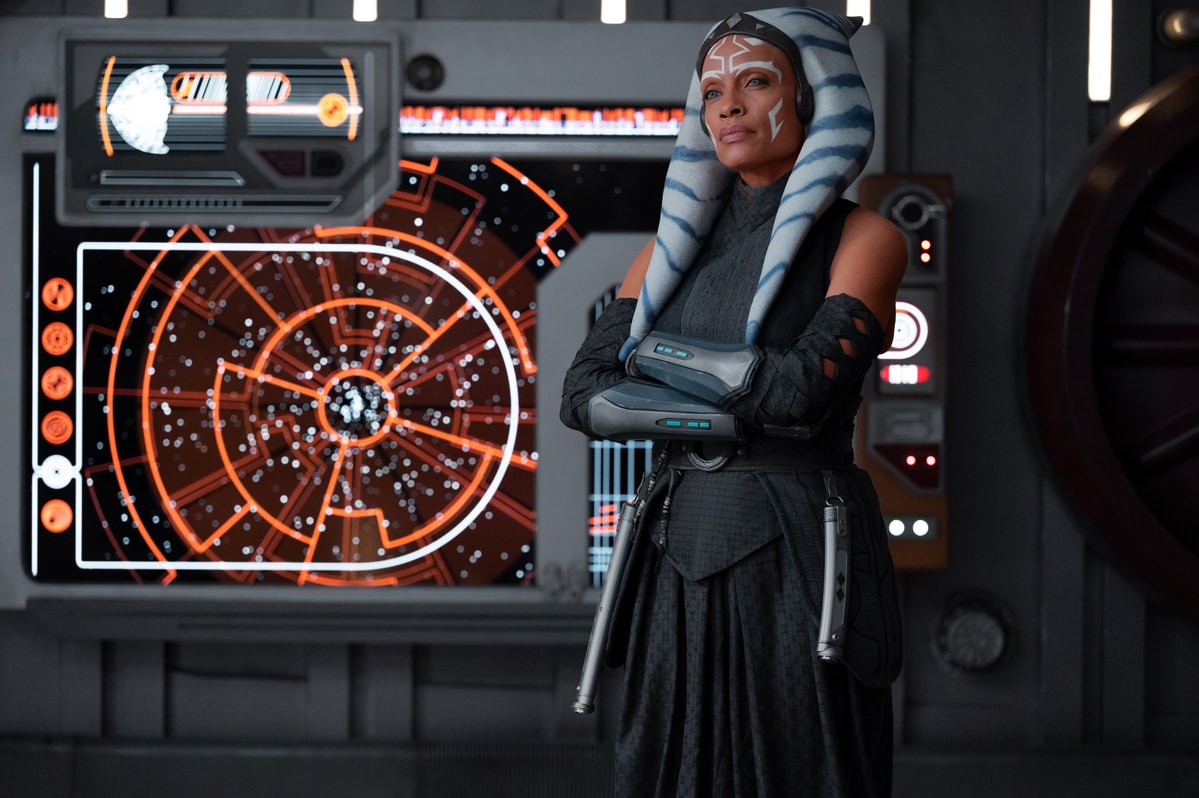 Ahsoka Episode 1 Easter Eggs & Breakdown
Dave Filoni sets the stage immediately for this cinematic Star Wars experience, which means Ahsoka opens with Scrolling Text. The main point to gather from this is that The Evil GALACTIC Empire has fallen and a New Republic has taken its place. But there are some who are plotting war and that includes locating the missing Grand Admiral Thrawn.
In Mandalorian Chapter 13 "The Jedi" Ahsoka Tano captured Morgan Elsbeth, an ally of Thrawn. She learned from Elsbeth that a secret map contained the last known location of Thrawn. Ahsoka is seeking the map, hoping it will lead her to Thrawn and Ezra Bridger.
Meanwhile, a ship approaches the New Republic Transport Elsbeth is prisoner on. The signal given is an old Jedi clearance code. Captain Hayle allows them to board. The ship is then attacked by the fake Jedi – Sith Baylan Skoll and his apprentice Shin Hati. Baylan frees Elsbeth.
"We are no Jedi" which is a nod to Ahsoka's infamous quote: I am no Jedi.
RELATED: Ahsoka Episode 2 Easter Eggs & Breakdown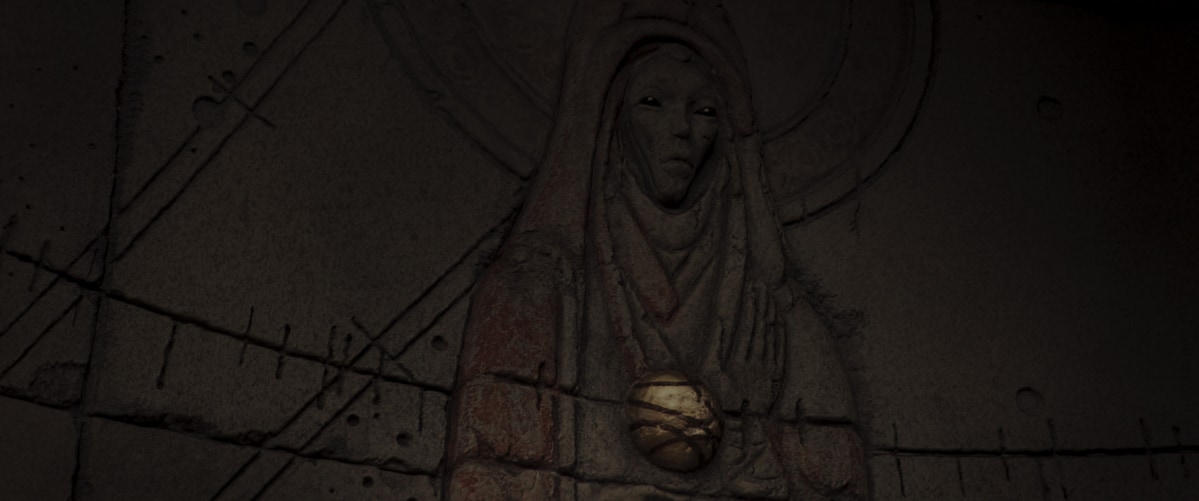 Ahsoka arrives at an ancient temple built by the Nightsisters of Dathomir. She cuts a hole into the temple with her lightsabers. There are images of Nightsisters holding an orb. She maneuvers pillars while ghostly voices cry out. She unlocks the temple's puzzle and her reward is the Star Map that contains Thrawn's location.
Before Huyang (David Tennant) can come back with their ship, Ahsoka is attacked by HK series assassin droids. These droids came with riot control style batons that can deflect a lightsaber. The droids first appeared in the video game Star Wars: Knights of the Old Republic.
Ahsoka escapes on her ship, the T-6 Jedi Shuttle and gets a message from Fleet Command. They are calling in Fulcrum.
Fulcrum was a title used by several Rebel informants over the years leading up to the battle of Yavin. Ahsoka is the one who came up with the idea and was the most notable bearer of the title.
X-Wings fly away as Ahsoka flies in. There she speaks with General Hera Syndulla (Mary Elizabeth Winstead) who at first doesn't believe Ezra survived the Battle of Lothal. But if Thrawn survived, Ezra did too.
Dave Filoni's Birthday is Ashoka's Ship Identification. T6-1974.
Ahsoka can't figure out how to read the Star Map. Hera tells her to get Sabine Wren to help. Sabine may be mad at Ahsoka but she would do anything to help Ezra.
On Lothal, Governor Ryder Azadi (played by the original voice actor Clancy Brown) is holding a ceremony to commemorate Commander Ezra Bridger and the other rebels who fought for the people during the Battle of Lothal. Sabine is MIA so Senator Jai Kell is asked to give a speech.
Jai Kell is a former young cadet that Ezra met during his time at the Academy for Young Imperials who eventually escaped with Ezra and joined Azadi's Resistance Group.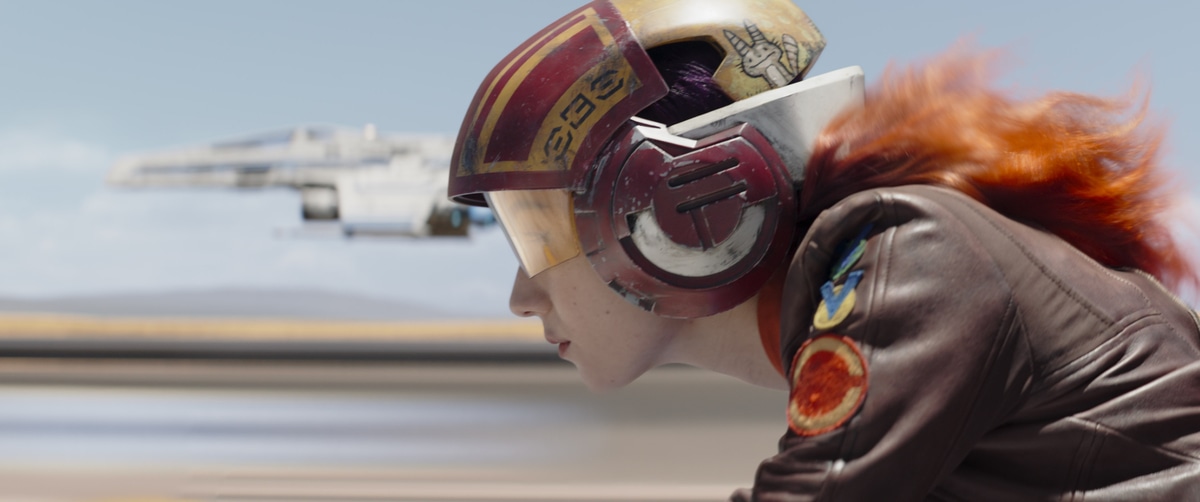 Sabine Wren (Natasha Liu Bordizzo) is racing her speeder bike down the road away from town. She pulls a move that is out of Fast and the Furious to escape the pilots sent to bring her to the ceremony.
There are Loth Cats on Sabine's helmet.
Her jacket patch: Republic Navy.
She is living in the Old Communications Tower, Ezra's former home. Her Mandalorian helmet can be seen under a table.
Sabine replays the last message Ezra sent her.
On the walls there are drawings of Loth Cats and Loth-Wolves.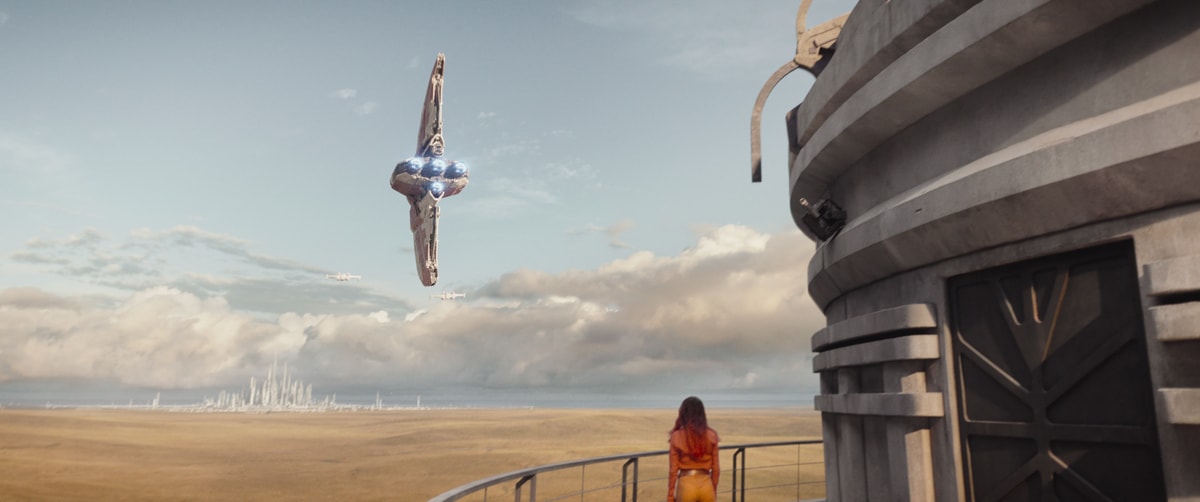 Baylan, Shin, and Morgan Elsbeth arrive at the Nightsisters' ancient temple. Elsbeth reveals she is a witch. She also sends Shin to track down Sabine in order to get to Ahsoka.
In the sky, Purrgil are flying past.
Back on Lothal, Sabine is dreaming, hearing Ezra's voice.
When the two meet, Ahsoka tells Sabine she may have a way to find Ezra. On Ahsoka's ship, Sabine's bunk has drawings of Loth Cats and Chopper.
The star map was found on Arcana, a known stronghold for witches.
Huyang has reconstructed the hilts from the Sith that attacked the transport ship. They include classic Jedi design motifs and resemble those made by the younglings he taught at the temple. He recognizes Baylan Skoll's hilt since it was unique. He says Baylan disappeared at the end of the Clone Wars.
Shin is also on Lothal and is tracking Sabine using a small probe droid. This is a similar shot to Darth Maul in the desert.
How Sabine unlocks the map is very similar visually to Captain Flint's spherical map in Treasure Planet.
She is attacked by the HK assassin droids and Shin. Sabine grabs her lightsaber, Ezra's Lightsaber, that has been modified a bit but still glows green. Shin stabs Sabine and leaves her to die.
Ahsoka episodes 1-2 are now streaming on Disney+.