After being almost no where for the last several months, we made a break for it and headed to Hersheypark to check out the brand new Candymonium coaster. More on that below because-woah! I was curious to see how being at a theme park would look and feel in 2020. Turns out although safety measures have changed and masks are a totally a thing, Hersheypark is still the sweetest place on Earth. This is what you to need to know when visiting Hersheypark in 2020.
RELATED: Hershey Park Reopening Information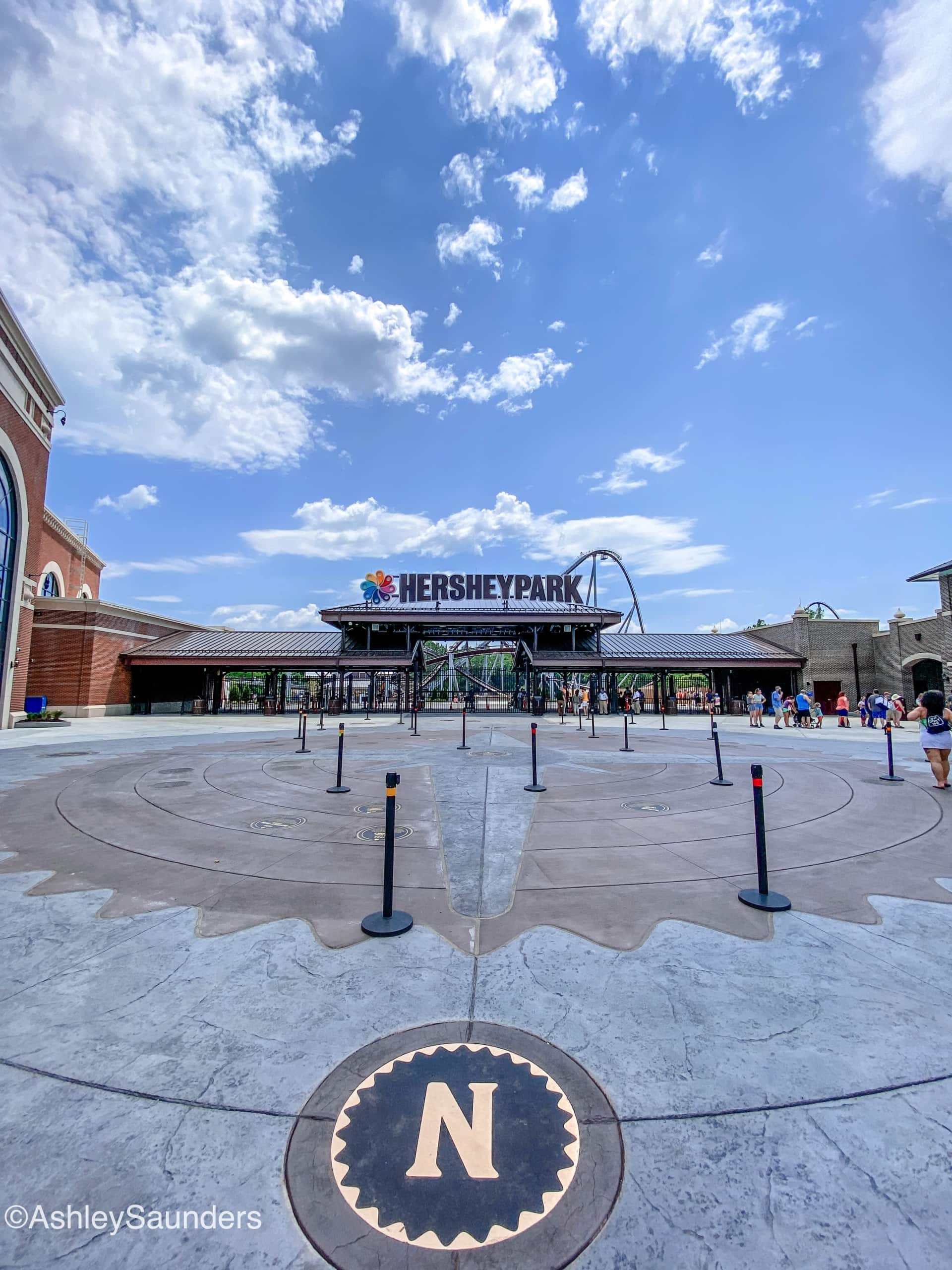 Visiting Hersheypark in 2020 | What You Need To Know
Our day at Hersheypark could be summed up as slightly different than last Summer but still a whole lot of fun. Candymonium is INTENSE but in a good way. If you are a thrill seeker this is the coaster you are looking for. We rode it 3x in a row and front, back, middle, wherever you sit you are in for a ride!
How Were The Crowds at Hersheypark?
The crowd level was low to medium depending on where in the park you were. In The Boardwalk it seemed more crowded but that probably was due to it being hot and everyone hits the waterpark on days like that. However it wasn't overwhelming and if you wanted to avoid groups of people you could easily get around them. Wait times were minimal throughout the park, with no ride taking longer than 20 minutes.
If you are a Full Size or King Size pass holder, or Hersheypark resort guests, take advantage of Sweet Start. Sweet Start allows you to get into Hersheypark one hour before it opens to the general public. If pass holders are using their Bring a Friend voucher, those guests will also be able to get in for Sweet Start. Be sure to reserve your day and check availability before making plans to visit.
What Safety Measures Does Hersheypark have?
Before entering the park, everyone will undergo a temperature screening with an infrared thermometer. Anyone with a temperature of 100.4 or above will not be allowed to enter. This also goes for Hershey's Chocolate World. Once you have been cleared, you will follow the color arrow for your line to the gate to scan your ticket and enter.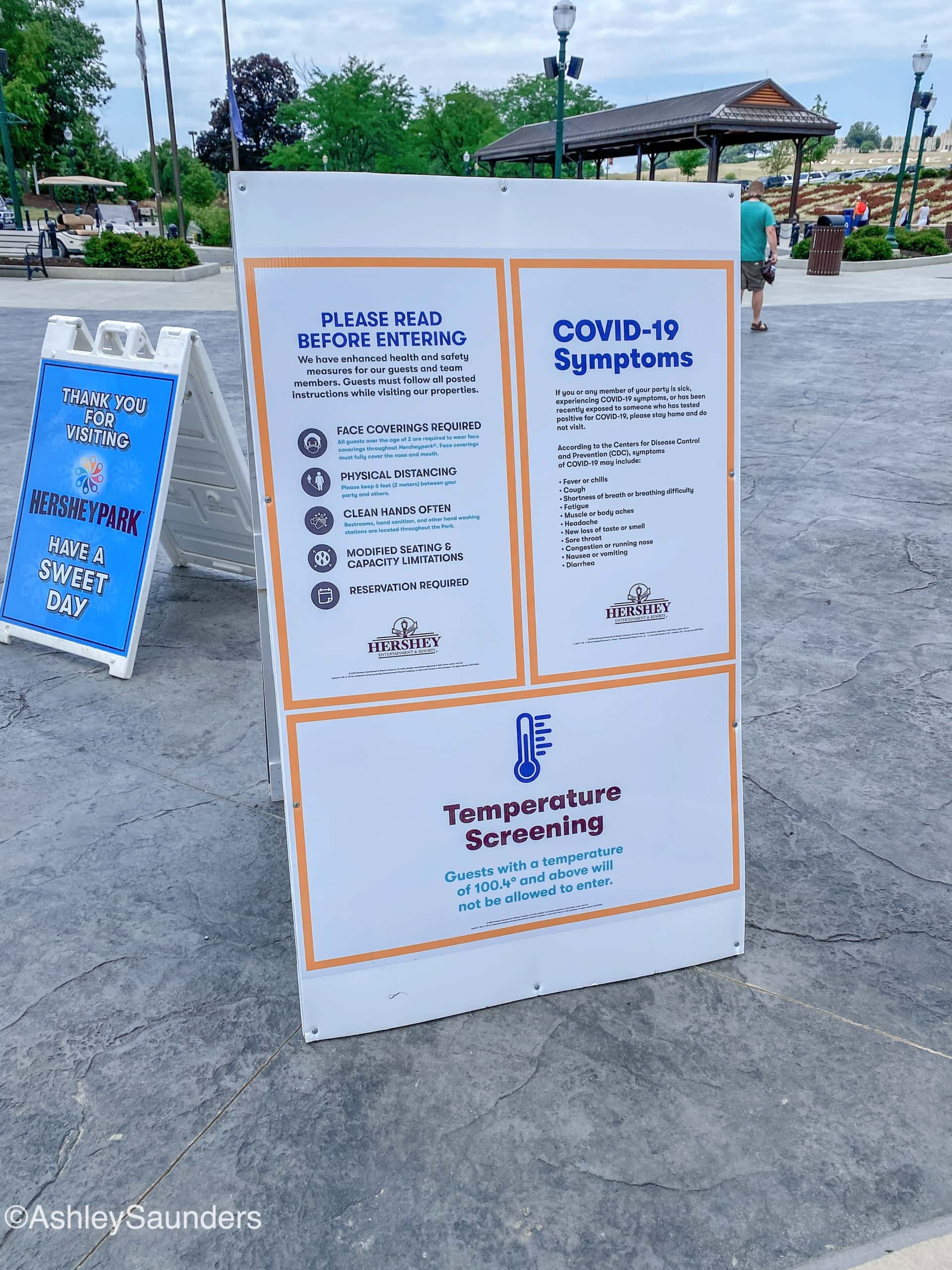 All guests over the age of 2 will be required to wear face coverings except while dining or on certain attractions. Over at The Boardwalk, guests will not be required to wear face coverings while in the water or on water attractions. Everything from the lockers to the Wave Pool are monitored and limited to provide safe distances for guests. All inside public spaces require masks unless you are dining.
read more: Hersheypark Reopening Information
Is Hersheypark enforcing the mask rule?
Yes! Hersheypark is enforcing their facial covering rule and I just want to say thank you to them for doing that. If someone walks into a building without it covering their face, the greeter reminds them to put it on. On rides, most have been wearing their masks, us included, and if you are standing around in the crowd without it on and they see you they will tell you to put it back on.
Speaking of masks on rides, we wore ours on Candymonium and other roller coasters and it was totally fine. I didn't feel like I couldn't breathe or that they were a hinderance. They do shift a little at those speeds and drops but no one lost theirs on the ride. Properly fitting masks are key!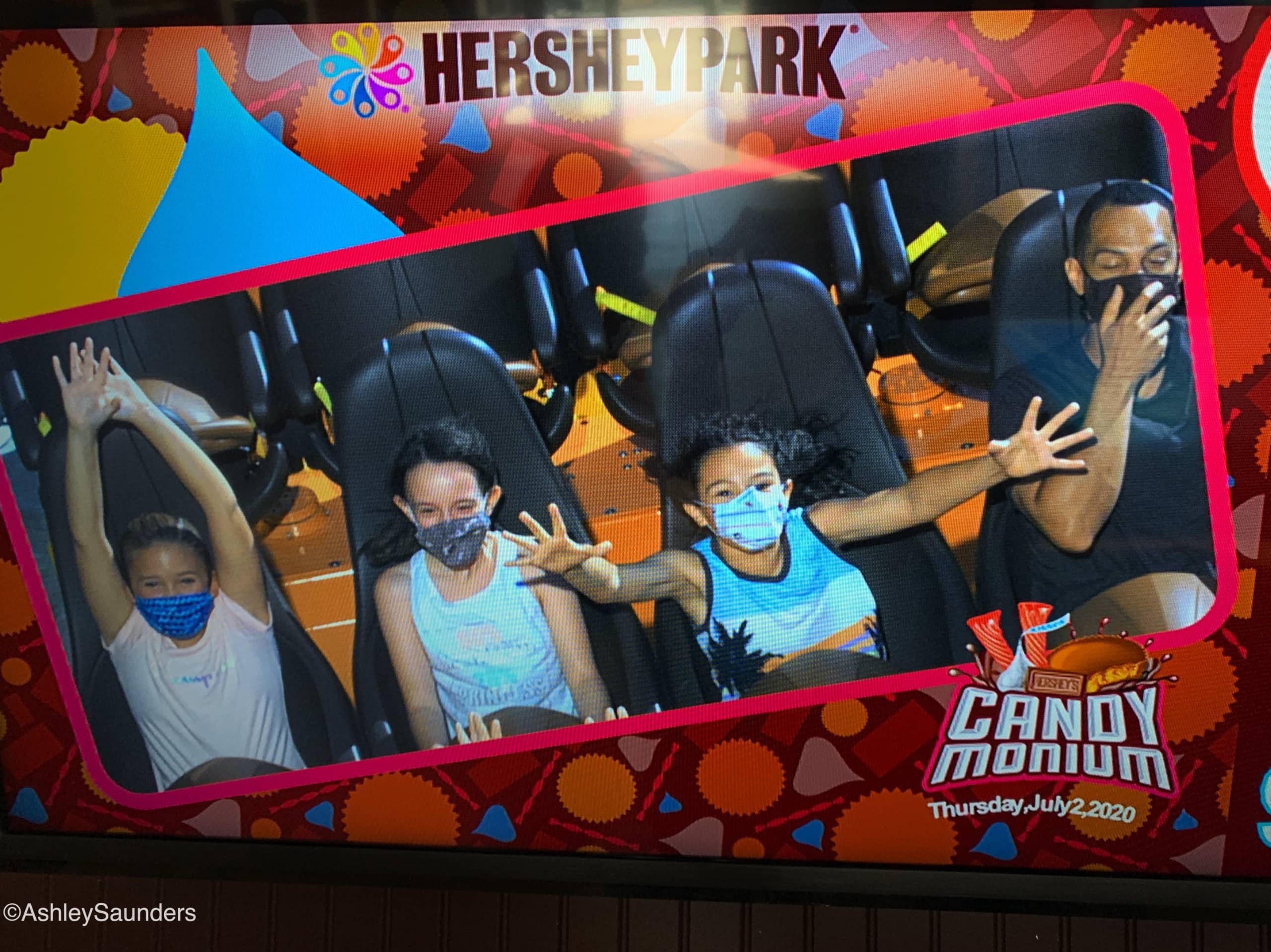 But it was hot right? Yes it was hot, like 90+ hot with humidity. My face did get nice and sweaty, lovely right? However, the alternative would've been another day of sitting home, staring at the same walls we've been looking at since March. Honestly, coming from someone who gets hot easily, it wasn't as bad as I thought it would be.
When I felt like I was swimming in face sweat, I found a corner out of the way of everyone and let me face breathe a bit. Also when you are eating or drinking you don't have to have it on. Inside The Boardwalk was the best, feeling hot? Run through the water features.
What is open at Hersheypark?
In Hershey's Chocolatetown Starbucks, Candymonium, the retail store, and Hyperdeck are open for business. The Kisses Fountain as well as the Carousel should be opening within the next few weeks.
All over the park most rides were open and running with social distancing measures in place: only family's sit together, line queue spacing, and hand sanitizer available at the entrance and exists. Some rides were not running however, and I don't know if that's because we were there for pass holder preview days or not.
I recommend always checking the official Hersheypark app for ride availability. It will give you location, wait times, and lots of other info for your day at the park.
ZooAmerica and The Boardwalk are open for business. The Boardwalk is the only area of the park face masks are not required. I however carried ours around in a clean ziploc bag, and had everyone wear them while walking around. If we were in the water structures, we did not have them on.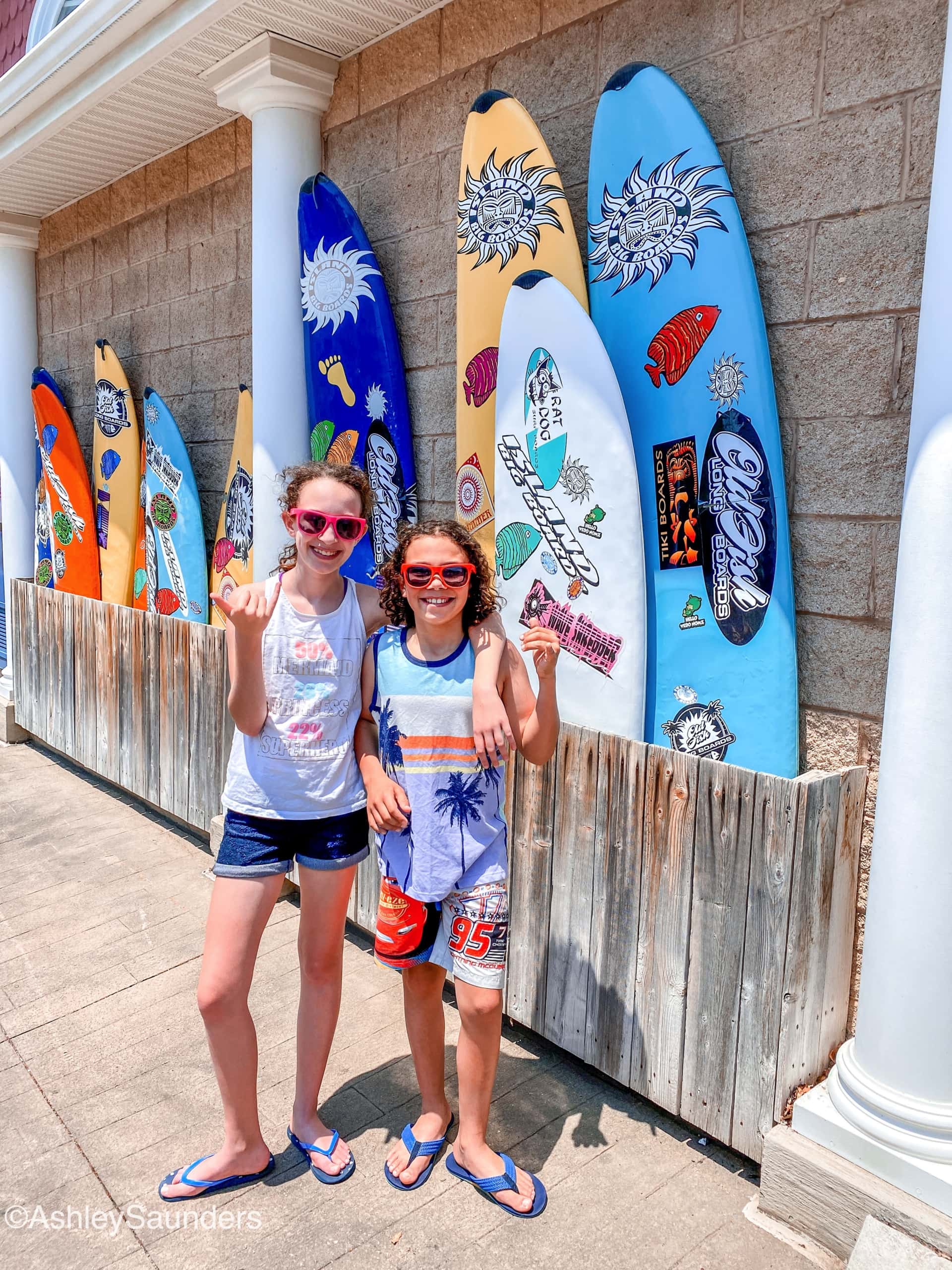 At Whitecap Racer and the Lazy River we saw employees spraying down the mats and tubes between uses. All other water rides that involve tubes are also cleaned in the same way.
Note: Not all rides are open at the same time. Check your Hersheypark App for more info throughout the day.
Hersheypark Dining and Refillable Drink Cups
The refillable, all-season drink cups were on my radar to see how they were going to do that safely. Before going to the park I said there is no way I want to buy the cups again this year, because how are they going to keep people and their germs from those machines?
I'm happy to report that I am all for buying the refillable cups because Hershey figured out how to make it work. Thank you Hershey team! If you have a refillable cup you walk up to the team member and tell them what kind of drink you want. Using a disposable cup, aka typical theme park drink cup, they will fill that with your drink of choice and hand it to you. Then you can use that to refill your reusable cup.
Note: Some refill stations did not have a team member present. If you're extra cautious like me, stick to the ones with Hersheypark employees.
Inside and outside dining locations have touchless pay and tables have been spaced out to allow for social distancing measures. If you're concerned you won't get a table, we all know finding tables can be hard sometimes at parks, I recommend eating before or after the big lunch crowds. We ate early and had no problem finding a table in the shade.
The tables, and all areas, are cleaned frequently, but if you need an extra boost of confidence, bring your own sanitizing wipes and wipe it down before sitting.
Hershey Character Meet and Greets
Character meet and greets look a little differently this year but that doesn't mean guests can't at least say Hi! to their Hershey faves. Look for characters at the Chevrolet Music Box Theatre and near the entrance to the park. Check the Hersheypark app for appearance times.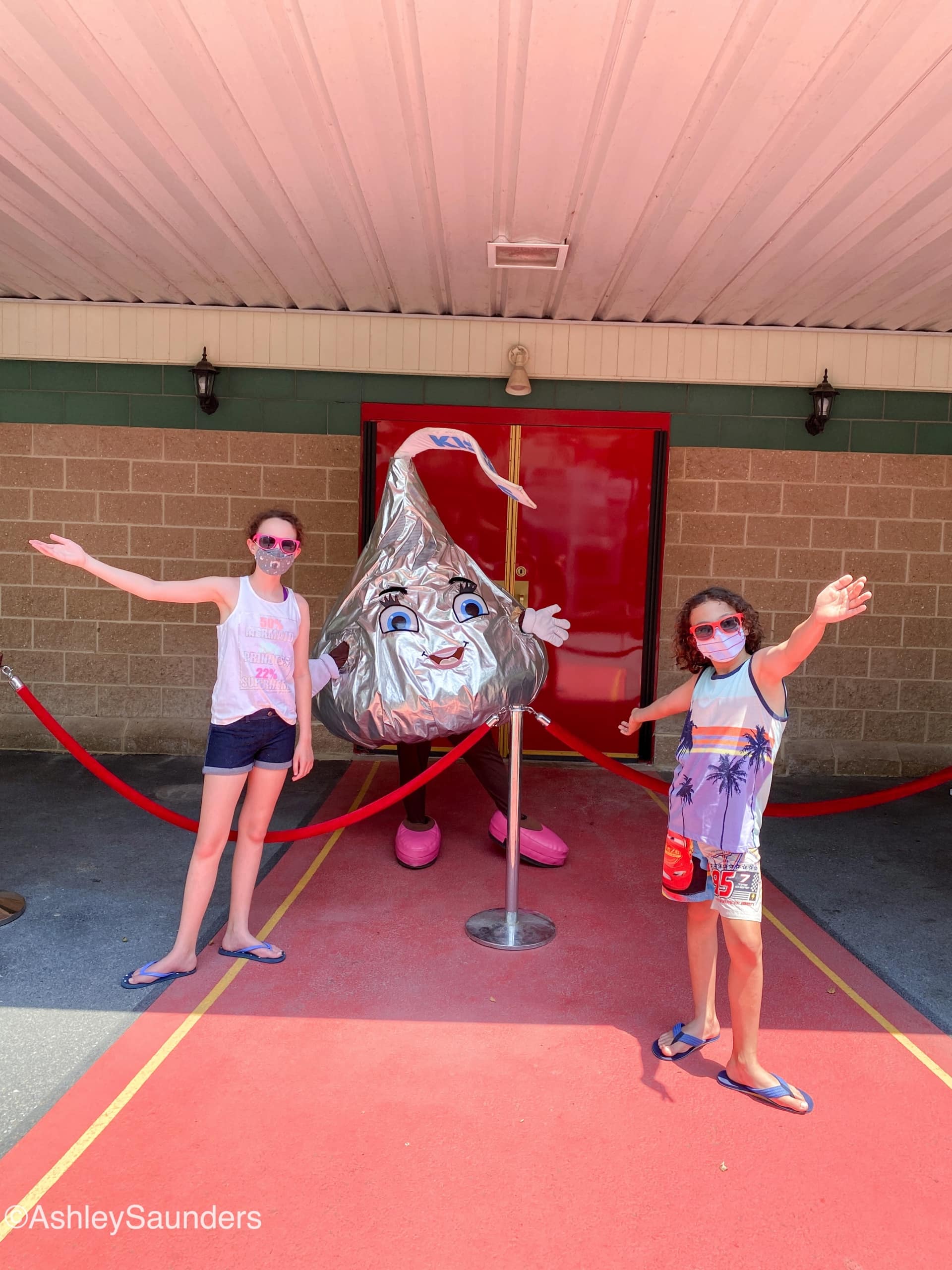 Did we feel safe at Hersheypark? Is it worth the money?
I won't lie, I'm a bit of a germaphobe. Not Sheldon Cooper level but I'm cautious on a normal day and extra vigilant nowadays. Hersheypark has always impressed me with their cleanliness and overall care of the property. When they released their plans for reopening I was impressed.
Reading about it and seeing it in action are two different things. We worried a bit that things would feel weird or off while we were there. However, I'm happy to report we had a great day at the park. Wearing a mask wasn't as awful as people might make it out to be, although I believe the type of mask you are wearing is key. Ours had fitted nose areas to prevent our sunglasses from fogging up, adjustable ear loops, and just lightweight enough that they weren't stifling.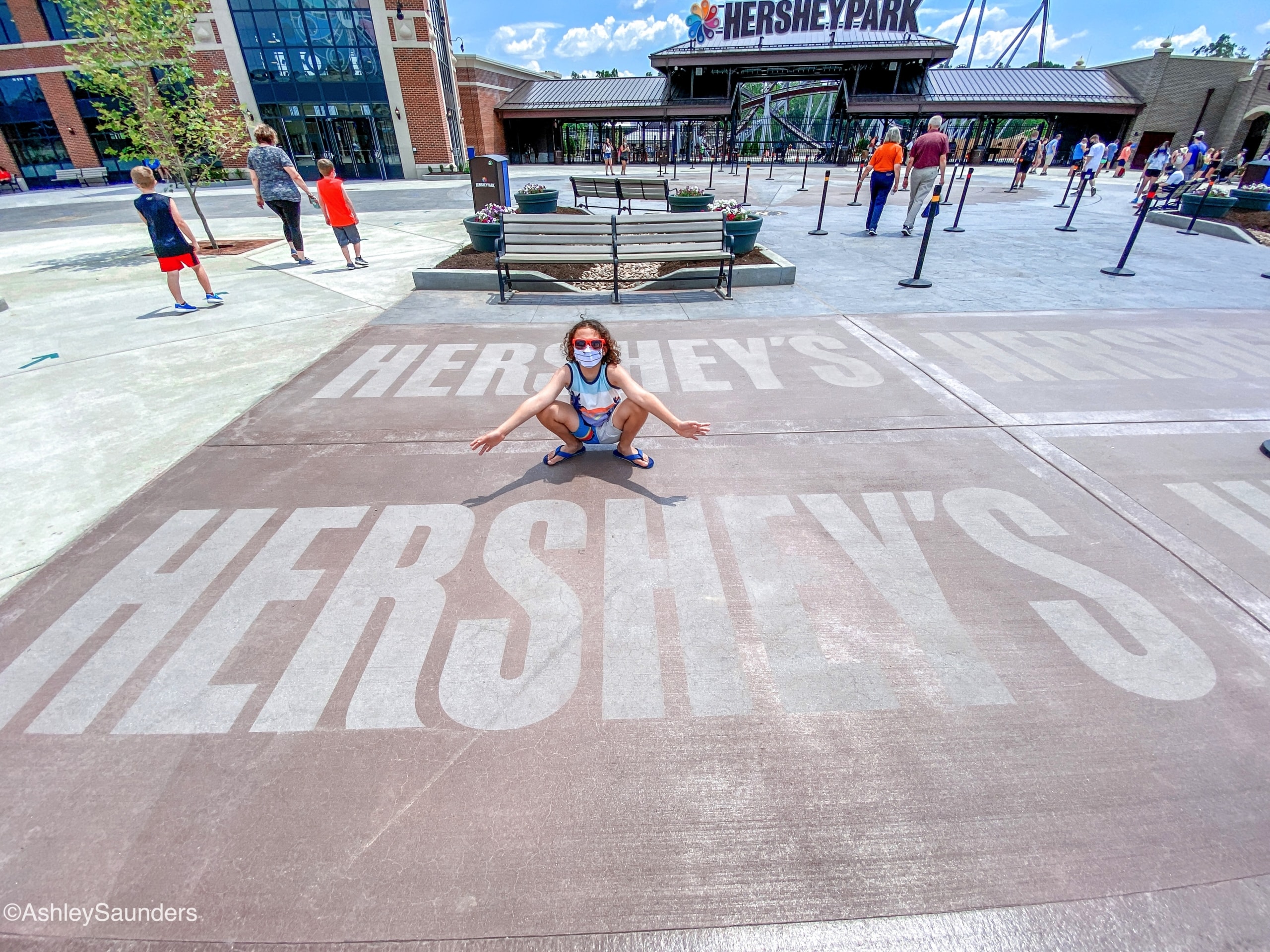 Yes I brought my own hand sanitizing spray as well as cleaning wipes but I didn't feel the need to use them. I only used my own hand sanitizer once, as they have it readily available throughout the park. People generally followed the mask rule, I only saw one guy who didn't have his on correctly, and overall everyone seemed happy to be somewhere other than their houses. I never felt like we were in an unsafe area or our health was in danger. I appreciate every effort by the Hershey team to keep us all safe.
If you are looking for a place to go with your family this Summer, whether it's for the day or several, Hersheypark is a great choice! They are currently running a deal for savings of more than 30% off tickets or look at their official resorts for even more deals for your Hershey stay.
KEEP READING:

HersheyPark Reopening Information