Taika Waititi once again transcends expectations in Thor Love and Thunder to deliver an epic adventure that is visually spectacular with incredible performances, a killer soundtrack, and screaming goats. Not only that it has some great Easter eggs for fans of the MCU, pop culture, and the comics to find. Which as you know is one of my favorite things to do, so here are all the Thor Love and Thunder Easter eggs and cameos you may have missed.
This is your spoiler warning if you haven't watched Thor Love and Thunder.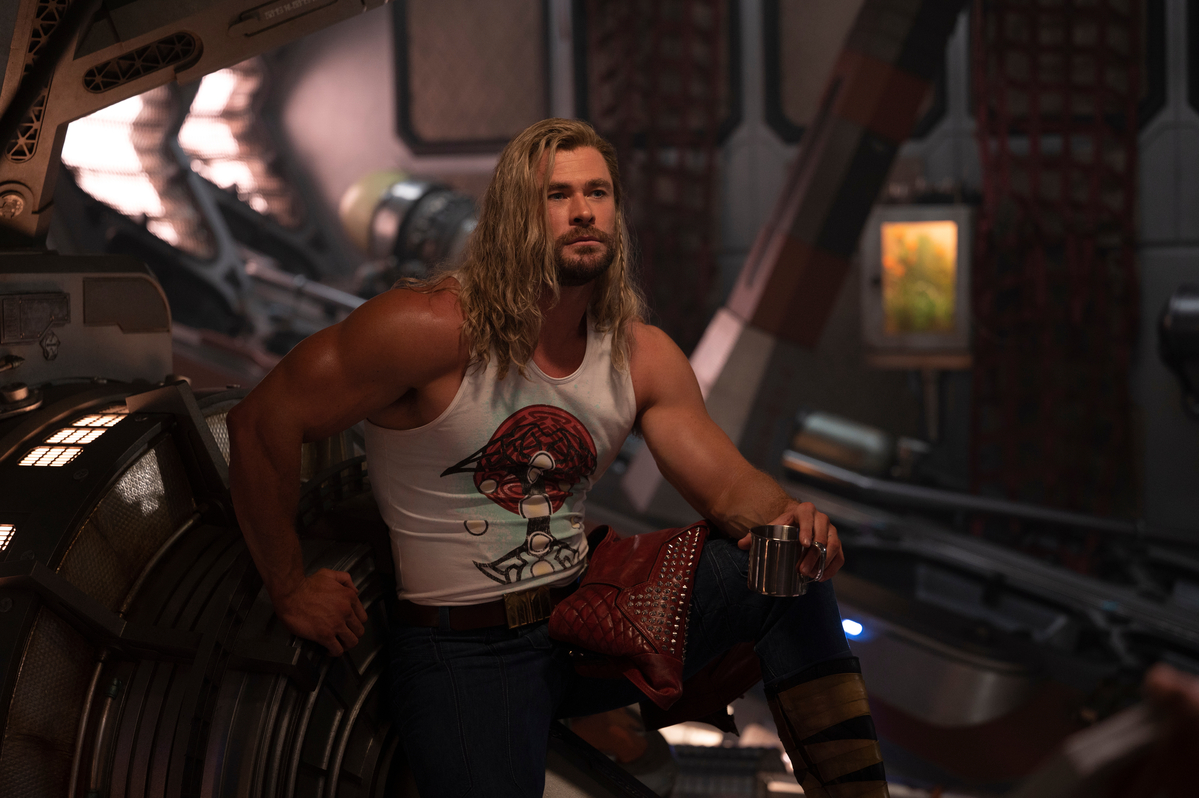 Thor Love and Thunder Easter Eggs & Cameos
The movie opens with the comic backstory of Gorr The God Butcher. He is a man who believes if he keeps his faith the gods will intervene and spare his last living relative, his daughter. In the comics it is his son's death that drives him mad. He stumbles upon the oasis of a sun-type god and kills him with the Necrosword which begins to infect his body, taking him over. In the comics the All-Black Necrosword is the first symbiote. Yes, like Venom.
"All gods will die," is a nod to his comic line: "This… is why all gods must die."
The sword reveals to Gorr he must seek out Eternity. Eternity is an entity that encompasses all of the Marvel Universe along with his "sister" Infinity. The only being with more authority over the world is The Living Tribunal.
RELATED: Thor Love and Thunder Review: An Epic Spectacular Worthy of Thor
Marvel Studios logo plays to a rock opening.
Korg is telling the children about Thor. He tells how he grew up learning to fight with his mother Frigga, how he dated many women including a wolf woman, before falling in love with Jane Fonda (Jane Foster).
The young Thor is played by Chris Hemsworth's son Tristan.
He also tells the kids how Thor lost everyone: the original Warriors Three are shown: Fandral, Hogun, and Volstagg. As well as Frigga, Odin, and Loki (all of Loki's deaths are shown) and sadly that is the only Tom Hiddleston we get for the whole movie.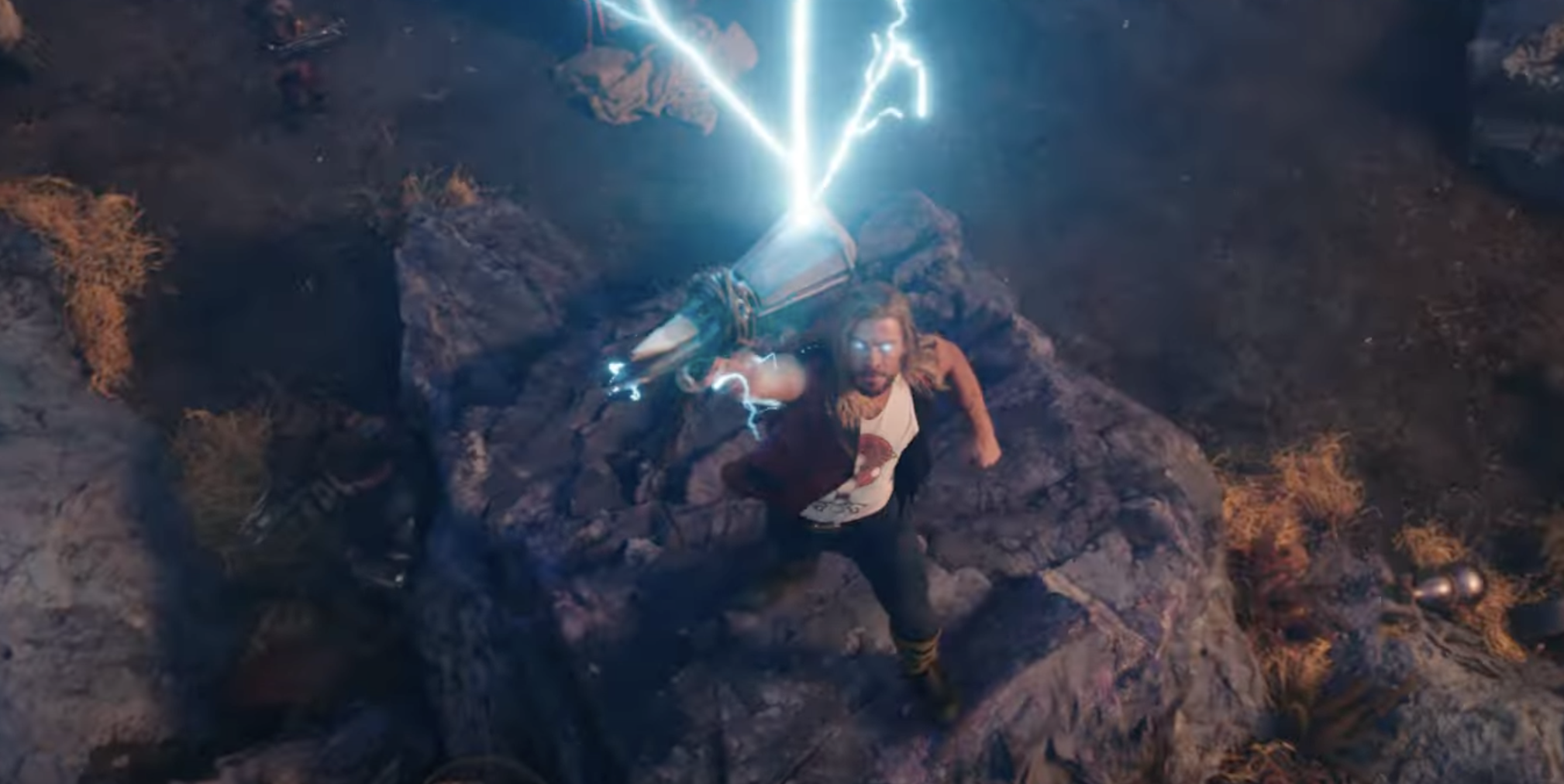 Thor and Korg are traveling with the Guardians of the Galaxy helping civilizations across the galaxy. They learn that Gorr is killing gods. Welcome to the Jungle plays while Thor defeats all the bad guys.
On Earth, Jane Foster is undergoing chemo. She is dying of cancer, which is what happens in the Mighty Thor comic run. She is talking to another cancer patient who is reading her book "The Foster Theory." She tries to explain space and time travel to him using movies like Interstellar and Event Horizon.
Darcy Lewis (Kat Dennings) stops in to see Jane. Only she and Dr. Erik Selvig know about Jane's diagnosis. Darcy puts the idea in Jane's head to seek out some godly help.
Dr. Selvig (Stellan Skarsgård) leaves a video message for Jane with bad news that her chemo isn't working.
In New Asgard, King Valkyrie is doing a lot, including starring in a commercial for Old Spice.
Paradise City by Guns 'N' Roses plays as we get an overview of New Asgard.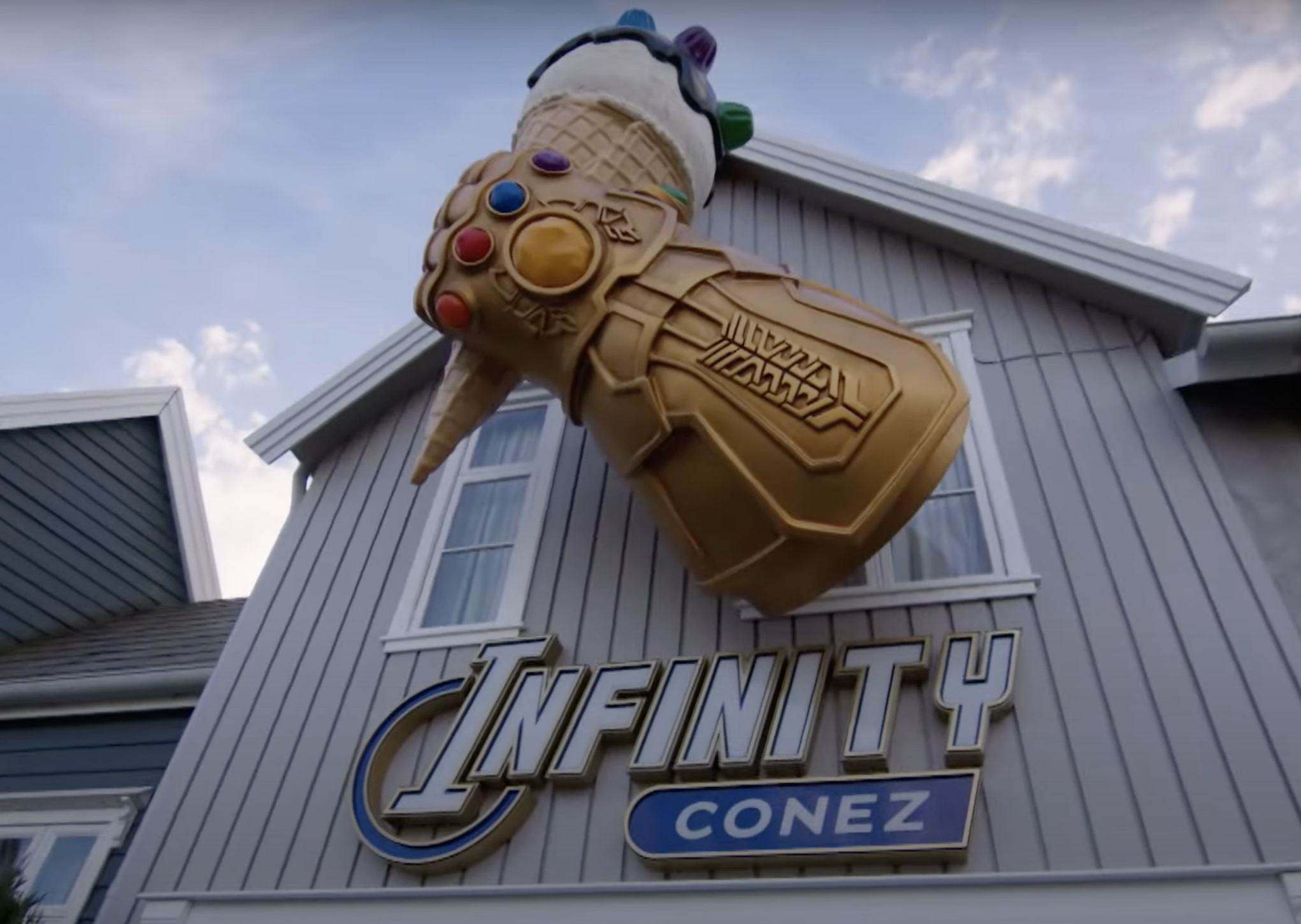 There is an Infinity Conez Ice Cream Shop with Thanos' Gauntlet as the sign.
In the port are several cruise ships including the new Disney Wish from the Disney Cruise Line.
Just like Thor Ragnarok, Love and Thunder also has a play. This one tells the tale of Ragnarok and once again stars Matt Damon as Loki, Sam Neill as Odin, and Luke Hemsworth as Thor. New to the theater troupe is Melissa McCarthy as Hela.
Darryl from the Team Thor shorts is the tour guide in New Asgard telling the group abut Mjolnir.
Near the theater, Mjolnir is on display, still broken and immovable. Jane approaches it and thunder rumbles.
Back in space, the people that Thor and the Guardians just saved gift Thor with Toothgnasher and Toothgrinder. In mythology (Tanngrisnir and Tanngnjóstr, )as well as the comics, they pull Thor's chariot and are not to be messed with as they possess supernatural strength.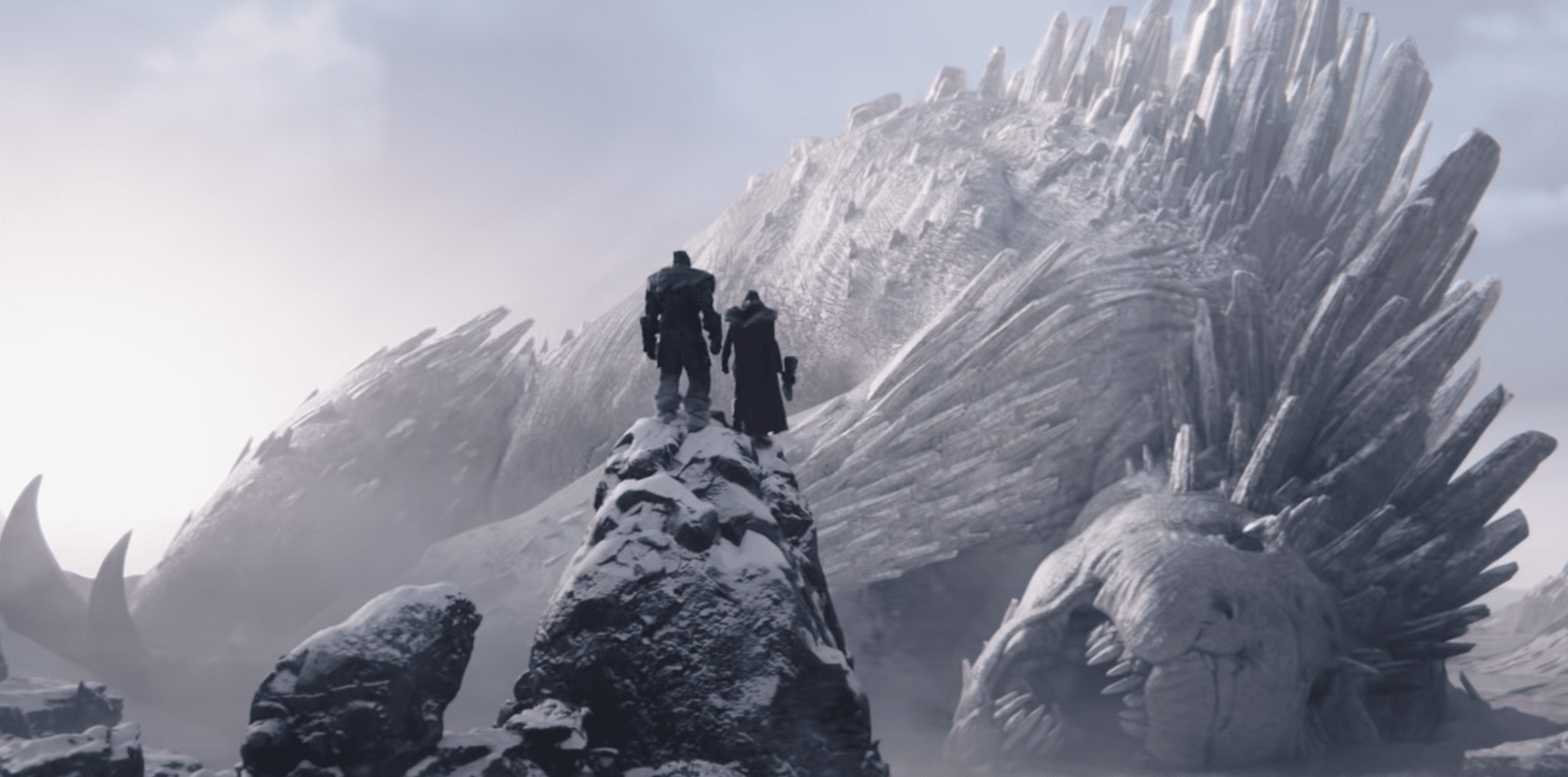 Thor receives a distress call from Lady Sif who warns him that Gorr the god butcher is coming for Asgard next. He and Korg leave the Guardians in order to find Sif. When they do, she is near the corpse of Falligar the Behemoth. This shot is another one straight from the comics.
In New Asgard, Gorr unleashes his Black Berserkers, the shadow-like creatures running around terrorizing the town.
On the wall in one of the Axel's room is a poster for "Mad Titan." Thanos was called the Mad Titan.
Valkyrie rides in on her Pegasus wearing a Phantom of the Opera shirt.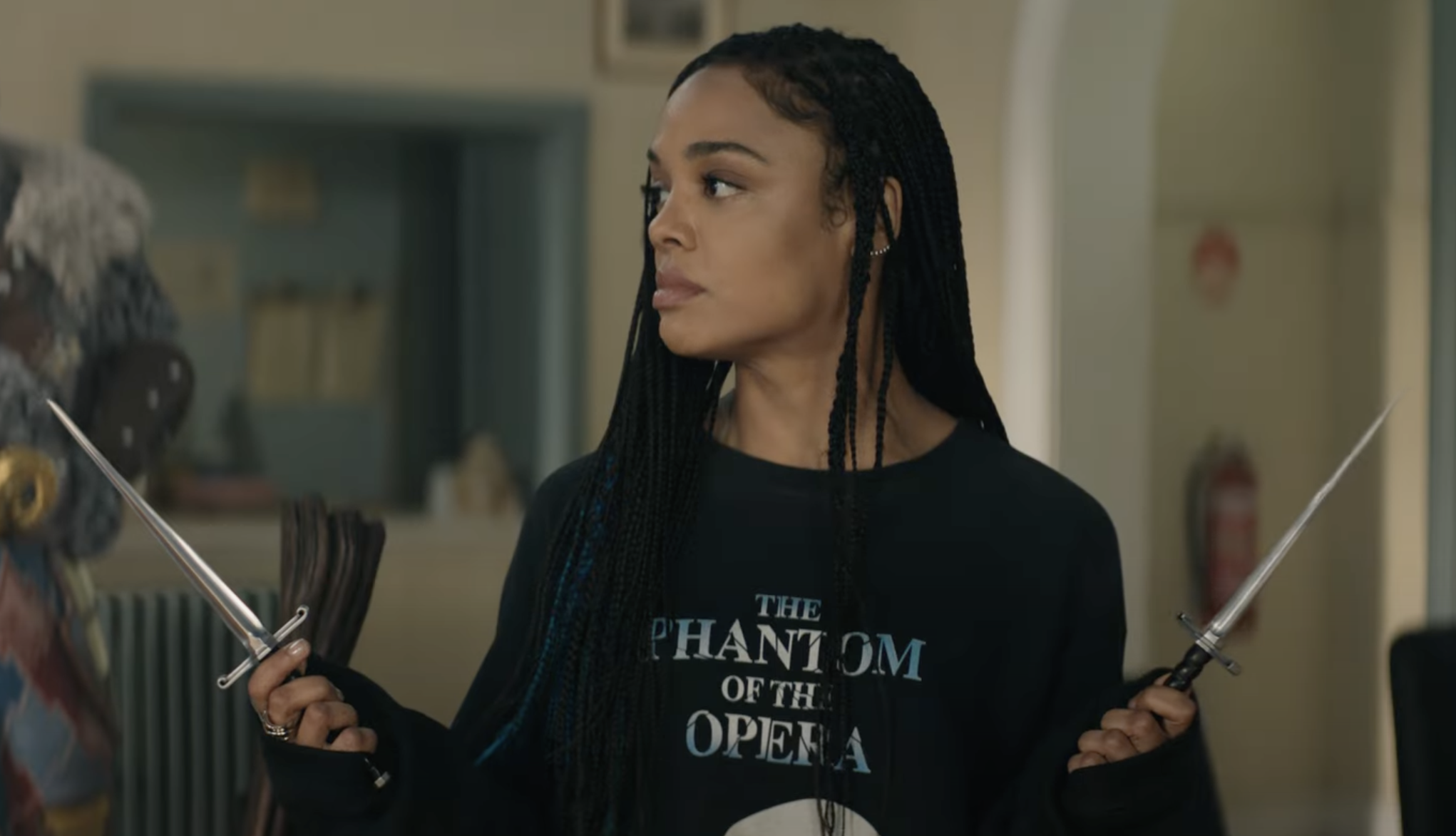 In Korg's story about Jane and Thor, gets a call from Nick Furry aka Nick Fury and leaves to answer it. This is also a call back to Team Thor when Thor questions if Nick Fury is his real name or is it furry.
Apparently New Asgard has a Trader Joe's somewhere because there is TJ Syrup on the counter.
Thor still has Loki's hair braided into his own.
The name Balder is seen on the wall. Balder the Brave is a brother of Thor in the comics and in Norse mythology.
Matt Damon and Luke Hemsworth are in the Town Hall pitching a new play about the tragic events of Gorr's invasion.
Gorr may have kidnapped the children but one of them is Heimdall's son, Astrid who has his father's all-seeing gift. Astrid however prefers to be called by his new name, Axel after the frontman of Guns 'N' Roses. Thor calls to him so the boy can help him see where the children have been taken.
They are in the Shadow Realm. In the comics there isn't much mentioned about the Shadow Realm except that it is the home of a warlord named Kaa.
Thor tells them they need to go to Omnipotence City where the gods hangout. He is hoping to get help from other gods like Hercules, Zeus, Tezcatlipoca, or Ra. Omnipotence City is a Nexus for all gods.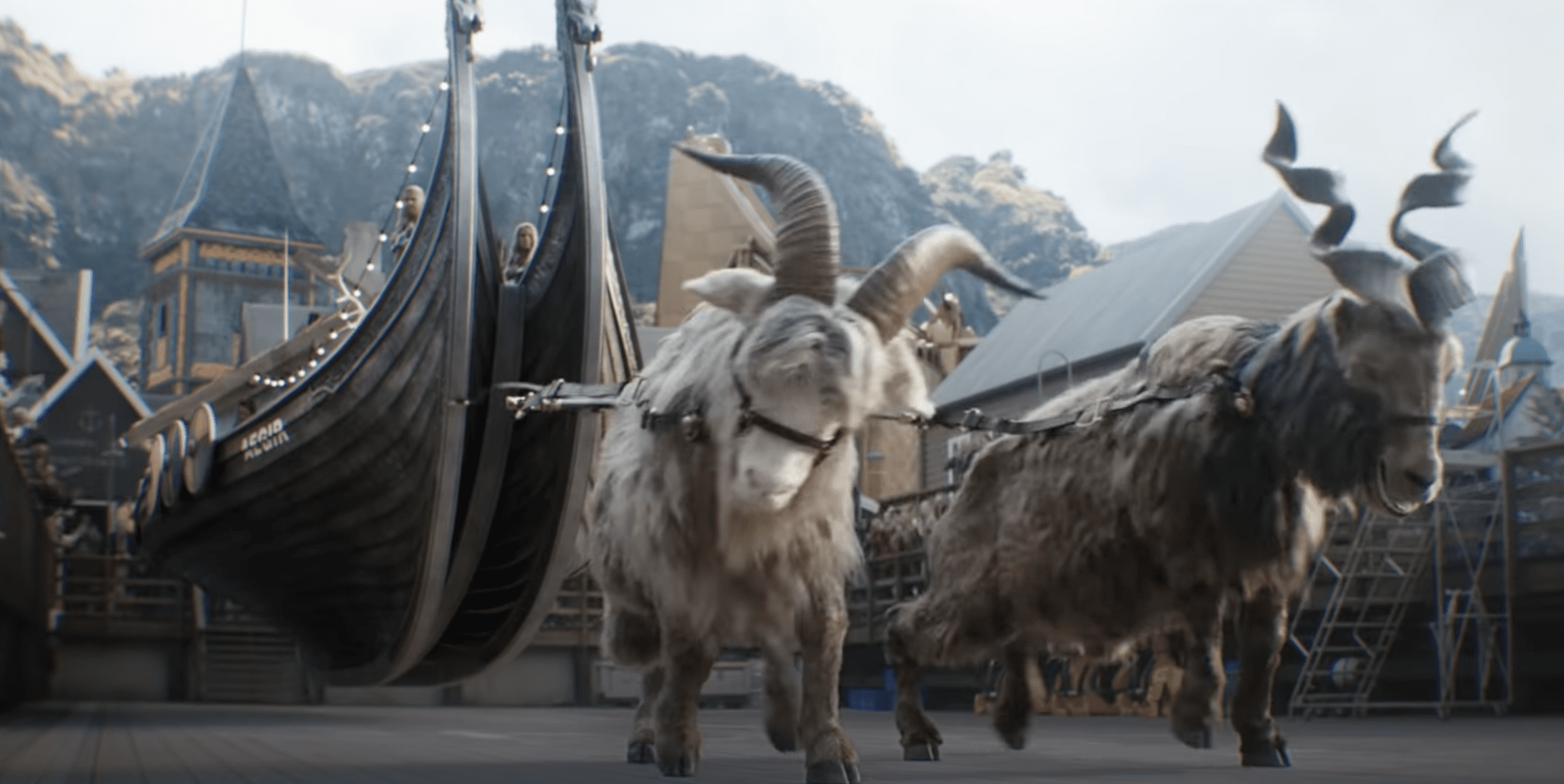 They leave New Asgard on the viking boat that is pulled by Toothgnasher and Toothgrinder. The boat says AEGIR. Ægir is the god of the sea. He is also known for hosting the gods and brewing ale, the latter we know Thor loves. There is also a purple neon sign that says "Cocktails and Dreams" from the 1988 Tom Cruise film Cocktail.
Thor claims to be good at disguises. Another throwback to Thor Ragnarok and his terrible hiding skills.
There are a lot of god's gathered in Omnipotence City:
Kronan God on a throne of scissors. A callback to Korg's Rock Paper Scissors joke in Ragnarok.
Dionysus played by Ben Falcone.
Bast – the goddess of Wakanda
Bao Bun God
Dragon God– a nod to the Makluans, the species The Great Protector in Shang-Chi comes from.
Minerva
Maori God
And of course there is Zeus (Russell Crowe).
When Zeus reveals Thor's naked body, he has a giant tattoo of Loki's horned helmet. It says RIP Loki. There are also other names listed including Mother, Father, Loki, Tony, and Natasha.
As they exit Omnipotence City, two celestials are seen: Eson the Searcher and Ziran the Tester.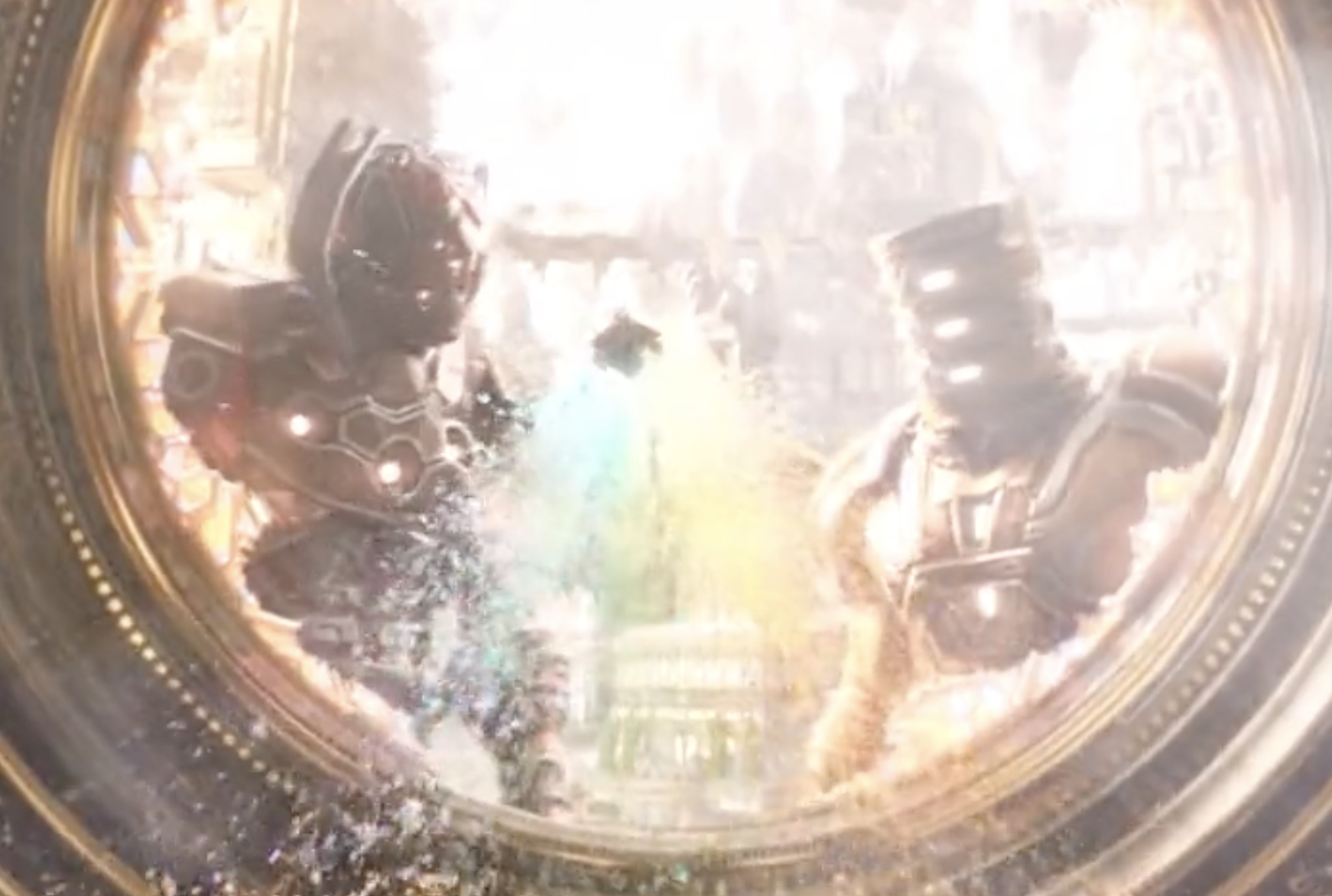 Jane will die if she uses Mjolnir again.
When Jane uses her lighting in the temple in the Shadow Realm there are statues of The Living Tribunal, Uatu The Watcher, Lady Death, Eon, and Infinity. The first two have been introduced in the MCU. The newcomers are Lady Death, who was Thanos' love in the comics and the reason he wanted to annihilate half of every living thing. Eon, who is associated with Time and is an offspring of Eternity. And finally Infinity, who as mentioned above, is Eternity's "sister," sharing authority over everything with him and is a personification of space.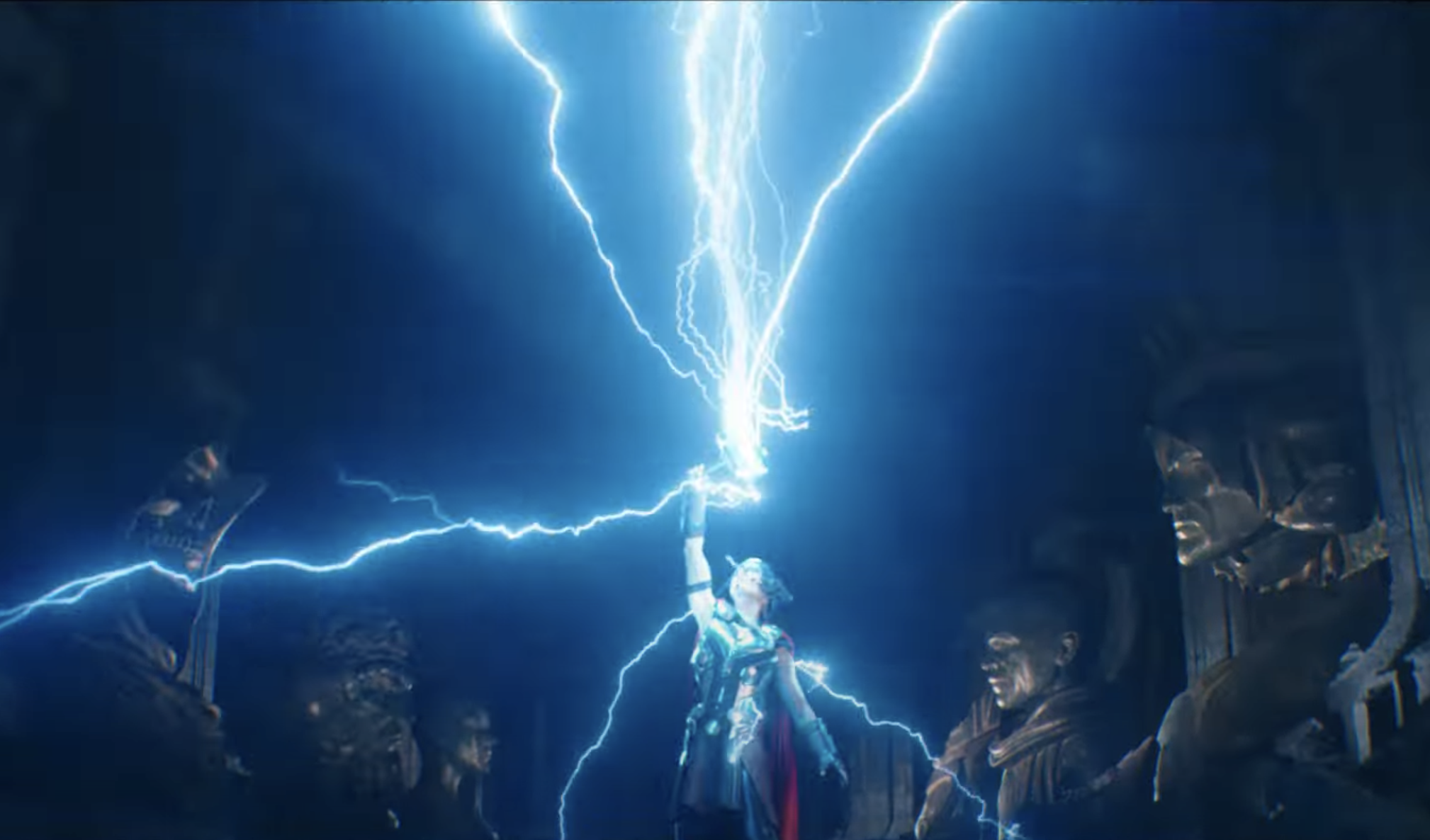 In order to help fight Gorr and his berserkers, Thor (temporarily) grants the children of Asgard the power of Thor. The one little girl with the Bunny Rabbit plush is a nod to Taika Waititi's Jojo Rabbit.
The Asgardian children include Sasha Hemsworth daughter of Chris Hemsworth, Taika Waititi's daughters Te Kainga O'Te Hinekahu and Matewa Kiritapu as well as Natalie Portman's children Aleph and Amalia Millepied.
Gorr makes it to Eternity and asks for his daughter to be brought back to life. As Jane dies, the little girl comes back resembling at first Singularity, a quantum being within which a pocket dimension exists.
There is a Mighty Thor statue in New Asgard.
Sif is training the next generation of Asgardian warriors.
Korg has found a man: Dwayne as spoof on Dwayne "The Rock" Johnson.
Mjolnir has been decorated by Love, the daughter of Gorr, who Thor is now raising as his own. This is a callback to Party Thor from Marvel's What If…? When she uses her powers her eyes glow purple just like Ms. Marvel and Star-Lord, before he lost his powers.
Love is played by India Rose Hemsworth.
Thor Love and Thunder Post Credit Scenes Explained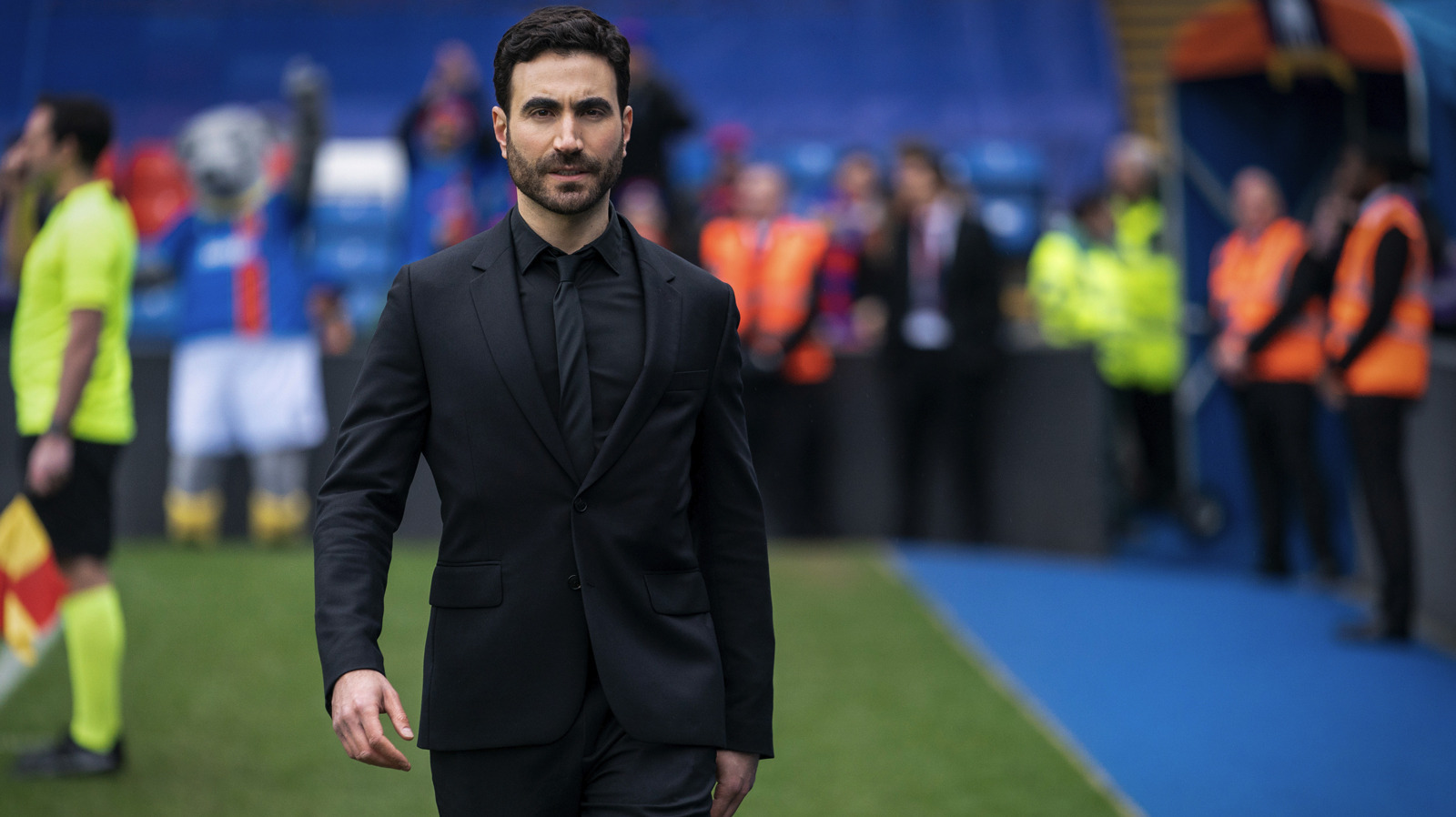 In the Mid-Credit scene, Zeus is alive and very angry about what happened with Thor. He tells his son Hercules (Brett Goldstein) that there should be no more superheroes. That everyone will learn to fear the gods again.
Roy Kent in the MCU? Yes, yes, yes!
The post-credit scene takes place in Valhalla. Jane has made it to the sacred land of the dead and is greeted by Heimdall (Idris Elba).
Thor Love and Thunder is now playing in theaters everywhere.